Send us your announcements of important dates, events and newsworthy articles via email, or in the comment section at the end of this page, and we will share it on this world community calendar 🌍
---
Schedule A Virtual Appointment / Join Us on Microsoft Teams
---
---
---
Oliver Wendell Holmes Jr.
---
---
---
In 2017, suicide claimed the lives of more than 47,000 people in the United States, according to the Centers for Disease Control and Prevention (CDC). Suicide affects people of all ages, genders, races, and ethnicities.
Suicide is complicated and tragic, but it can be preventable. Knowing the warning signs for suicide and how to get help can help save lives.
Here are 5 steps you can take to #BeThe1To help someone in emotional pain:
ASK: "Are you thinking about killing yourself?" It's not an easy question but studies show that asking at-risk individuals if they are suicidal does not increase suicides or suicidal thoughts.
KEEP THEM SAFE: Reducing a suicidal person's access to highly lethal items or places is an important part of suicide prevention. While this is not always easy, asking if the at-risk person has a plan and removing or disabling the lethal means can make a difference.
BE THERE: Listen carefully and learn what the individual is thinking and feeling. Research suggests acknowledging and talking about suicide may in fact reduce rather than increase suicidal thoughts.
HELP THEM CONNECT: Save the National Suicide Prevention Lifeline's number in your phone so it's there when you need it: 1-800-273-TALK (8255). You can also help make a connection with a trusted individual like a family member, friend, spiritual advisor, or mental health professional.
STAY CONNECTED: Staying in touch after a crisis or after being discharged from care can make a difference. Studies have shown the number of suicide deaths goes down when someone follows up with the at-risk person.
For more information on suicide prevention go HERE
---
Need a car? Buy a $1 Raffle Ticket, as many as you'd like, and try your chances at winning a Smart Car, or other great prizes that will help you to achieve your goals for the future.
---
---
---
Overview
A traumatic event is a shocking, scary, or dangerous experience that can affect someone emotionally and physically. Experiences like natural disasters (such as hurricanes, earthquakes, and floods), acts of violence (such as assault, abuse, terrorist attacks, and mass shootings), as well as car crashes and other accidents can all be traumatic.
Ways to Cope
Healthy ways of coping in this time period include:
Avoiding alcohol and other drugs;
Spending time with loved ones and trusted friends who are supportive; and
Trying to maintain normal routines for meals, exercise, and sleep.
In general, staying active is a good way to cope with stressful feelings.
---

---
---
Welcome to OpenWHO
OpenWHO is WHO's new interactive, web-based, knowledge-transfer platform offering online courses to improve the response to health emergencies. OpenWHO enables the Organization and its key partners to transfer life-saving knowledge to large numbers of Frontline Responders and Essential Workers.
Trainings for current gym outbreaks
COVID-19 (Coronavirus)
---
All Outbreaks
---
Preparing for pandemics
---
---
---
CDC: CORONA VIRUS 2019 – (COVID19)
The outbreak of coronavirus disease 2019 (COVID-19) may be stressful for people and communities. Fear and anxiety about a disease can be overwhelming and cause strong emotions in adults and children.
Everyone reacts differently to stressful situations.
The emotional impact of an emergency on a person can depend on the person's characteristics and experiences, the social and economic circumstances of the person and their community, and the availability of local resources. People can become more distressed if they see repeated images or hear repeated reports about the outbreak in the media.
People who may respond more strongly to the stress of a crisis include:
People who have preexisting mental health conditions including problems with substance use
Children
People who are helping with the response to COVID-19, like doctors and other health care providers, or first responders
Additional information and resources on mental health care can be found at the Substance Abuse and Mental Health Services Administration (SAMHSA) website.
Substance Abuse and Mental Health Services Administration's (SAMHSA's) NATIONAL Disaster Distress Hotline: 1-800-985-5990 or text TalkWithUs to 66746.
People with deafness or hearing loss can use their preferred relay service to call 1-800-985-5990.
Reactions during an infectious disease outbreak can include:
Fear and worry about your own health status and that of your loved ones who may have been exposed to COVID-19
Changes in sleep or eating patterns
Difficulty sleeping or concentrating
Worsening of chronic health problems
Increased use of alcohol, tobacco, or other drugs
Domestic Violence and Abuse
---
From leading research and development to assess potential treatments for #COVID19, to supporting the deployment of medical robots in China, the United Nations is mobilizing international cooperation to harness the power of science, technology and innovation to tackle the coronavirus pandemic.
ANTÓNIO GUTERRES08 APR 2020 | SECRETARY-GENERAL
The Covid-19 pandemic is one of the most dangerous challenges this world has faced in our lifetime. It is above all a human crisis with severe health and socio-economic consequences. The World Health Organization, with thousands of its staff, is on the front lines, supporting Member States and their societies, especially the most vulnerable among them, with guidance, training, equipment and concrete life-saving services as they fight the virus.
---
faith
noun ˈfāth plural faiths ˈfāths , sometimes ˈfāt͟hz
Definition of faith
(Entry 1 of 2)1a: allegiance to duty or a person : LOYALTY lost faith in the company's presidentb(1): fidelity to one's promises(2): sincerity of intentionsacted in good faith2a(1): belief and trust in and loyalty to God(2): belief in the traditional doctrines of a religionb(1): firm belief in something for which there is no proofclinging to the faith that her missing son would one day return(2): complete trust3: something that is believed especially with strong convictionespecially: a system of religious beliefsthe Protestant faith on faith: without questiontook everything he said on faith
faith verb ˈfāth faithed; faithing; faiths
Definition of faith (Entry 2 of 2)
---
transitive verb archaic: BELIEVE, TRUST
---
Stages of faith development
James W. Fowler (1940–2015) proposes a series of stages of faith-development (or spiritual development) across the human life-span. His stages relate closely to the work of Piaget, Erikson, and Kohlberg regarding aspects of psychological development in children and adults. Fowler defines faith as an activity of trusting, committing, and relating to the world based on a set of assumptions of how one is related to others and the world.
Intuitive-Projective: a stage of confusion and of high impressionability through stories and rituals (pre-school period).
Mythic-Literal: a stage where provided information is accepted in order to conform with social norms (school-going period).
Synthetic-Conventional: in this stage the faith acquired is concreted in the belief system with the forgoing of personification and replacement with authority in individuals or groups that represent one's beliefs (early-late adolescence).
Individuative-Reflective: in this stage the individual critically analyzes adopted and accepted faith with existing systems of faith. Disillusion or strengthening of faith happens in this stage. Based on needs, experiences and paradoxes (early adulthood).
Conjunctive faith: in this stage people realize the limits of logic and, facing the paradoxes or transcendence of life, accept the "mystery of life" and often return to the sacred stories and symbols of the pre-acquired or re-adopted faith system. This stage is called negotiated settling in life (mid-life).
Universalizing faith: this is the "enlightenment" stage where the individual comes out of all the existing systems of faith and lives life with universal principles of compassion and love and in service to others for upliftment, without worries and doubt (middle-late adulthood (45–65 years old and plus.
No hard-and-fast rule requires individuals pursuing faith to go through all six stages. There is a high probability for individuals to be content and fixed in a particular stage for a lifetime; stages from 2-5 are such stages. Stage 6 is the summit of faith development. This state is often considered as "not fully" attainable.
---
---
---
If you or someone you know is in a crisis, get help immediately. You can call 911 or the National Suicide Prevention Line at 1-800-273-TALK (8255).
---
---
---
---
---
OMHRC Knowledge Center Online Catalog
The Office of Minority Health Resource Center online
POPULATION HEALTH PROFILES
Black/African American Health Profile
American Indian/Alaska Native Health Profile
Hispanic/Latino Health Profile
Native Hawaiian & Pacific Islander American Health Profile
---
---
DEPARTMENT OF JUSTICE 🇺🇸
QUICK LINKS
---
---
Centers for Disease Control and Prevention (CDC) Data & Statistics Fatal Injury Report for 2018, as of March 1, 2020. Suicide rates listed are Age-Adjusted Rates.
Suicide is the10th leading cause of death in the US
In 2018, 48,344 Americans died by suicide
In 2018, there were an estimated 1.4M suicide attempts
Become an advocate to help prevent suicide
Additional facts about suicide in the US
The age-adjusted suicide rate in 2018 was 14.2 per 100,000 individuals.
The rate of suicide is highest in middle-aged white men.
In 2018, men died by suicide 3.56x more often than women.
On average, there are 132 suicides per day.
White males accounted for 69.67% of suicide deaths in 2018.
In 2018, firearms accounted for 50.57% of all suicide deaths.
---
---
8/1 –
---
8/2 –
---
Various practioners of meditation: The HinduSwami Vivekananda, the Buddhist monk Hsuan Hua, Taoist Baduanjin Qigong, the Christian St Francis, the Stoic sage Epictetus and Muslim Sufis in Dhikr.
---
---
---
A Season of Play
With an abundance of salmon rippling through the river, 2020 has largely been a playful year for our beloved brown bears.
We made a July compilation of the funniest moments from the Katmai National Park Bear Cams. Did we forget a favorite moment of yours? Let us know in the comments .
Never Stop Laughing,
---
Condé Nast Spotlight
TEEN VOGUETikTok Says It's "Not Going Anywhere"
THE NEW YORKERAnimal Behaviors I've Adopted as My Own
Flying into windows, howling at the moon, retracting into a shell, and other unusual doings for an unusual time.
WIREDIncognito Mode May Not Work the Way You Think It Does
Every browser has a private mode—but the privacy it offers has a limit.
GLAMOURYour Horoscope for the Week Ahead
Expect some revealing truths to emerge on the friendship front by Monday's full moon.
BON APPÉTITTrini Stewed Eggplant is Almost Too Simple to Require a Recipe, But I Made You One Anyway
ALLUREI Need Every Single One of These Snack-Inspired Bracelets
VANITY FAIRAs Award Shows Go Virtual, So Do The Gifting Suites
Spotlight: Racism in America
THE NEW YORKERThe Power of Police Unions
VOGUEWill 2020 Finally Force Fashion to Break Its Greenwashing Habits?
PITCHFORKThe 8 Best DJ Sets of July 2020
Spotlight: The Latest on The Coronavirus
THE NEW YORKER"Bluey," the Coronavirus, and the Weirdness of Little Kids
CONDÉ NAST TRAVELERClear Goes Beyond Airports with Its COVID-19 Screening Service
TEEN VOGUEWhat to Do When Relaxing Feels Terrifying
8/3 –
Statement of Assistant Attorney General for National Security John C. Demers on the Public Release of the Department's Findings with Respect to the 29 FISA Applications that Were the Subject of the March 2020 OIG Preliminary Report 08/03/2020 12:00 AM EDT
"The Department of Justice has completed its review of the 29 FISA applications that were the subject of preliminary findings by the DOJ Inspector General (OIG) in March 2020. We are pleased that our review of these applications concluded that all contained sufficient basis for probable cause and uncovered only two material errors, neither of which invalidated the authorizations granted by the FISA Court. These findings, together with the more than 40 corrective actions undertaken by the Federal Bureau of Investigation and the National Security Division, should instill confidence in the FBI's use of FISA authorities. We would like to express our appreciation to the OIG for their focus on the Department's use of its national security authority. We remain committed to improving the FISA process to ensure that we use these tools consistent with the law and our obligations to the FISA Court. The ability to surveil and to investigate using FISA authorities remains critical to confronting current national security threats, including election interference, Chinese espionage and terrorism."
---
---
---
---
sometimes called biological chemistry, is the study of chemical processes within and relating to living organisms. Biochemical processes give rise to the complexity of life.
For instance, in every living cell, there is a crucial biological process, called respiration. This process is the conversion of glucose into a useful form of energy, which is ATP(adenosine triphosphate). The study of biochemistry uncovers the numerous chemical processes involved in converting glucose into carbon dioxide and water.
A sub-discipline of both biology and chemistry, biochemistry can be divided into three fields; structural biology, enzymology and metabolism. Over the last decades of the 20th century, biochemistry has become successful at explaining living processes through these three disciplines. Almost all areas of the life sciences are being uncovered and developed by biochemical methodology and research. Biochemistry focuses on understanding the chemical basis which allows biological moleculesto give rise to the processes that occur within living cells and between cells, which in turn relates greatly to the study and understanding of tissues and organs, as well as organism structure and function.
Biochemistry is closely related to molecular biology, the study of the molecular mechanisms of biological phenomena.
Much of biochemistry deals with the structures, functions, and interactions of biological macromolecules, such as proteins, nucleic acids, carbohydrates, and lipids, which provide the structure of cells and perform many of the functions associated with life. The chemistry of the cell also depends on the reactions of smaller molecules and ions. These can be inorganic (for example, water and metal ions) or organic (for example, the amino acids, which are used to synthesize proteins). The mechanisms by which cells harness energy from their environment via chemical reactions are known as metabolism. The findings of biochemistry are applied primarily in medicine, nutrition and agriculture. In medicine, biochemists investigate the causes and cures of diseases. In nutrition, they study how to maintain health and wellness and study the effects of nutritional deficiencies. In agriculture, biochemists investigate soil and fertilizers. They also try to discover ways to improve crop cultivation, crop storage, and pest control.
Around two dozen chemical elements are essential to various kinds of biological life. Most rare elements on Earth are not needed by life (exceptions being selenium and iodine), while a few common ones (aluminum and titanium) are not used. Most organisms share element needs, but there are a few differences between plants and animals. For example, ocean algae use bromine, but land plants and animals seem to need none. All animals require sodium, but some plants do not. Plants need boron and silicon, but animals may not (or may need ultra-small amounts).
Just six elements—carbon, hydrogen, nitrogen, oxygen, calcium and phosphorus—make up almost 99% of the mass of living cells, including those in the human body (see composition of the human body for a complete list). In addition to the six major elements that compose most of the human body, humans require smaller amounts of possibly 18 more. Wikipedia.
---
Automated production of Braille textbooks
Aug 3 – Aug 7
---
From Our Archives: John Lewis in His Own Words
Rep. John Lewis on the 'Unfinished Work' in the Civil Rights Movement
(JULY 7, 2014)
If you want to know something about a successful protest movement, Rep. John Lewis is a good person to ask. At the 2014 Aspen Ideas Festival, the Congressman and civil rights leader—who is the last remaining speaker from the 1963 March on Washington—reflected on his experience protesting during the Jim Crow era and the new graphic novel March, which he co-authored, about the movement. He also offered his perspective on what's needed today to move the country forward on issues of human and civil rights.
"Necessary Trouble"
During his interview with PBS host Gwen Ifill, Lewis acknowledged that bringing about change isn't always on the straight and narrow path. "You have to have the ability to speak up, speak out, and get in the way," Lewis said, "get in trouble, good trouble — necessary trouble."
In the video below, Lewis gives an example of the " necessary trouble" he and others got into during their nonviolent protests for equal voting rights during Bloody Sunday, the 1965 march from Selma to Montgomery, Alabama, when many were beaten and hosed down by police.
The 'Unfinished Work' of the Civil Rights Movement
"The movement wasn't just about African Americans, it was about all Americans," Lewis said. During the session Lewis discussed current US civil rights issues, expressing his support for comprehensive immigration reform and gay rights.
Youth's Obligation
In the audience, Citizen University Founder and Festival speaker Eric Liu posed a question to Lewis: In today's age, how should we define for this generation the challenges that we should be willing to put ourselves on the line for?
"I hear too many people say, 'I'm not going to participate, that's not my cause,'" Lewis responded. "We have to participate. Politics controls everything that we do in America, from the time that we are born until the time that we die.
"So you have a moral obligation, a mission, and a mandate to push and do everything you can, to leave this little piece of real estate we call America a little greener, a little cleaner, and a little more peaceful for generations yet unborn."
---
8/4 –
American Darknet Vendor and Costa Rican Pharmacist Charged with Narcotics and Money Laundering Violations 08/04/2020 12:00 AM EDT
A dual U.S.-Costa Rican citizen and a Costa Rican citizen, both of whom reside in Costa Rica, were indicted by a federal grand jury in the District of Columbia for their illegal sales of opioids on the darknet.
Virginia Man Pleads Guilty to Enticement, Child Pornography Charges 08/04/2020 12:00 AM EDT
A Virginia man who used an online chat website to engage in sexually explicit conversations with a 12-year-old minor female and later induced the victim to engage in sexually explicit behavior over video chat, pleaded guilty today in U.S. District Court in the Western District of Virginia to a pair of federal charges, announced Acting Assistant Attorney General Brian C. Rabbitt of the Justice Department's Criminal Division and U.S. Attorney Thomas T. Cullen for the Western District of Virginia.
Texas Entrepreneur Charged with Spending COVID Relief Funds on Improper Expenses Including Lamborghini and Strip Club 08/04/2020 12:00 AM EDT
A Houston, Texas man has been taken into custody on allegations he fraudulently obtained more than $1.6 million in Paycheck Protection Program (PPP) loans, announced Acting Assistant Attorney General Brian C. Rabbitt of the Justice Department's Criminal Division and U.S. Attorney Ryan K. Patrick of the Southern District of Texas.
Attorney General William P. Barr Remarks at White House Roundtable on Housing Assistance Grants for Victims of Human Trafficking, Remarks as Prepared for Delivery 08/04/2020 12:00 AM EDT
Thank you for being here. The scourge of human trafficking is the modern-day equivalent of slavery. Eradicating this horrific crime and helping its victims are top priorities for President Trump's Administration, including the Department of Justice. I thank the President for his steadfast commitment to this issue, and I thank Ivanka for her leadership and for hosting us today. I also thank all the survivors and their advocates here for their courage and determination to end this evil practice
Department of Justice Awards Over $35 Million to Provide Housing to Victims of Human Trafficking 08/04/2020 12:00 AM EDT
Today, Attorney General William P. Barr and Advisor to the President Ivanka Trump announced that the Office for Victims of Crime (OVC), a component of the Department of Justice's Office of Justice Programs (OJP), has awarded $35,104,338 in grant funding to provide safe, stable housing and appropriate services to victims of human trafficking.
Imperial Pacific International and MCC International Saipan Executives Indicted on Federal Charges 08/04/2020 12:00 AM EDT
Three executives from Imperial Pacific International (IPI) and MCC International Saipan have been indicted on federal criminal charges, including Racketeer Influenced and Corrupt Organizations Act (RICO) conspiracy, harboring illegal aliens, unlawful employment of aliens, and international promotional money laundering announced Acting Assistant Attorney General Brian C. Rabbitt of the Justice Department's Criminal Division and U.S. Attorney Shawn N. Anderson for the Districts of Guam and the Northern Mariana Islands.
---
---
---
---
---
The Tyranny of Merit: What's Become of the Common Good?
McCloskey Speaker Series
3:00 – 4:00 pm MT
Michael Sandel, professor of political philosophy at Harvard University has been described as "the most popular professor in the world." In this talk about his forthcoming book, Sandel examines how we define success and how our meritocracy is hurting the common good.
---
New steps to address systemic racism
Hewlett Foundation President Larry Kramer shares our new commitment to racial justice, a response to the imperative all institutions—especially institutions like ours—have to confront systemic racism in ongoing programs, culture, and operations.
The voices of Western Conservation
Conservation leaders from Outdoor Afro, Hispanic Access Foundation, and Artemis talk about their work to protect public spaces and make conservation and outdoor recreation more inclusive.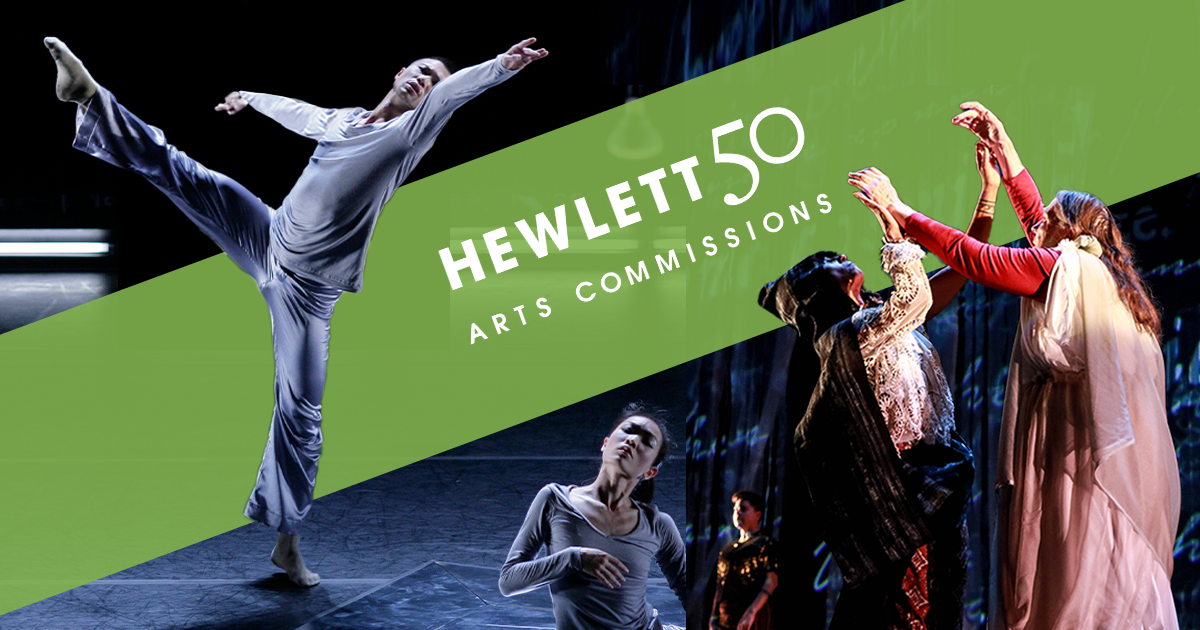 Ten Bay Area nonprofits receive grants to partner with world-class artists
Part of our Hewlett 50 Arts Commissions, the new dance works will tackle themes relevant to today's challenges, including racial justice, inequality, and rising xenophobia around the world.
---
New NSF engineering research centers focus on health, transportation, quantum tech and agriculture
---
Aspen Security Forum 2020
Aspen Strategy Group
August 4th-6th, 8:30 – 7:30 ET
Join the Aspen Strategy Group as they explore the most pressing foreign policy and national security issues of the day facing the United States and its allies.Leading journalists from NBC News and MSNBC will drive discussions with speakers:
US Secretary of Defense Mark Esper
Atlanta Mayor Keisha Lance Bottoms
former National Security Advisor John Bolton.
---
Convention on worst forms of child labour receives universal ratification
All 187 countries that are members of the UN International Labour Organization (ILO) have now ratified a convention to protect children from the worst forms of child labour, including slavery, prostitution and trafficking.
Formally known as Convention No. 182, the treaty, adopted two decades ago, achieved universal ratification on Tuesday, making it the most rapidly ratified Convention in the UN agency's 101-year history.
8/5 –
The Department of Justice Files Sexual Harassment Lawsuit Against Owner of Rental Properties in Elizabeth, New Jersey 08/05/2020 12:00 AM EDT
The Department of Justice announced today that it has filed a lawsuit alleging that the owner of rental properties in Elizabeth, New Jersey violated the Fair Housing Act by subjecting tenants to sexual harassment.
Justice Department Reaches Proposed Consent Decree to Resolve Hampton Roads Regional Jail Investigation 08/05/2020 12:00 AM EDT
Today, the Department of Justice's Civil Rights Division and the U.S. Attorney's Office for the Eastern District of Virginia filed a complaint and a proposed consent decree with the Hampton Roads Regional Jail Authority.
Justice Department Sues To Block Geisinger Health's Transaction With Evangelical Community Hospital 08/05/2020 12:00 AM EDT
The U.S. Department of Justice sued today to block Geisinger Health's partial acquisition of its close rival, Evangelical Community Hospital. The complaint alleges that the agreement fundamentally alters the relationship between the parties, raising the likelihood of coordination and reducing Defendants' incentives to compete aggressively against each other. As a result, the transaction is likely to lead to higher prices, lower quality, and reduced access to high-quality inpatient hospital services for patients in central Pennsylvania. The lawsuit was filed in the U.S. District Court for the Middle District of Pennsylvania.
---
---
---
---
---
---
Emerging from the Covid-19 Crisis as a More Resilient Society
Hurst Lecture Series
3:00 – 4:00 pm MT
Hear and learn from experts in the realm of access to parks, open space and public lands as they come together to share recent efforts to increase access, that also move us closer to achieving equitable access to the outdoors.
---
Why alcohol-use research is more important than ever
NIH's George Koob talks about how addiction changes the brain and the rise in alcohol-related deaths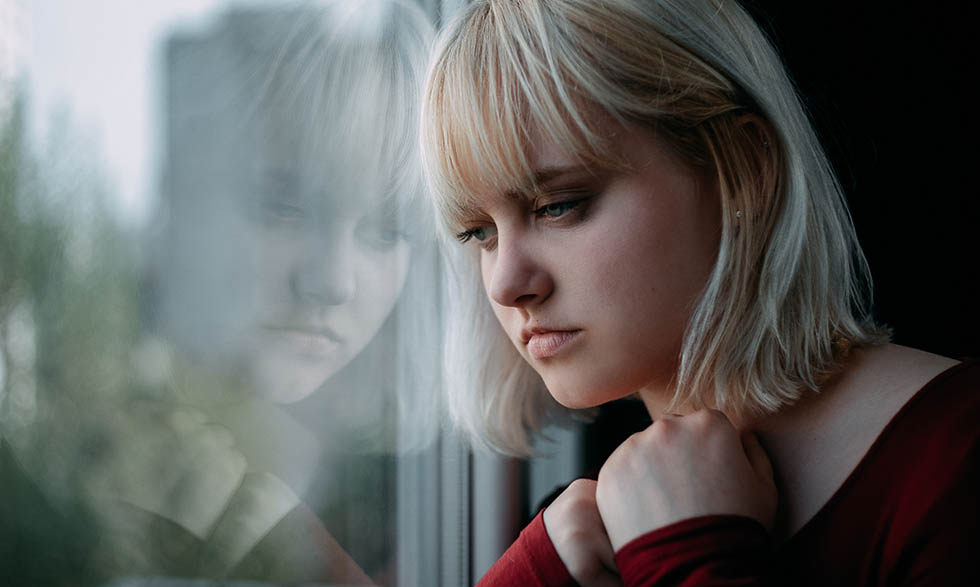 Alcohol use disorder is a common but serious condition that affects how the brain functions. Learn more
---
'Shallow Lightning' and 'Mushballs' Reveal Ammonia to NASA's Juno Scientists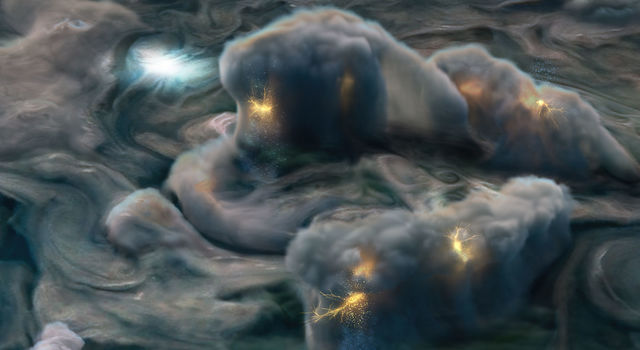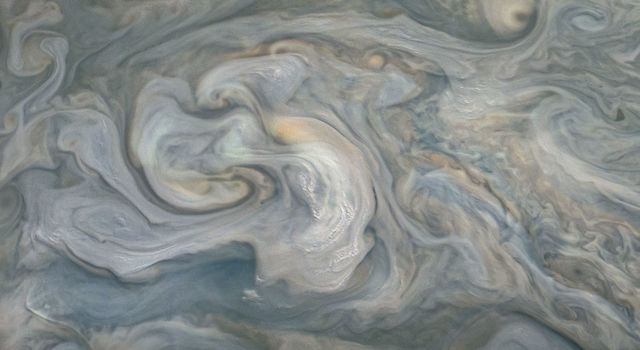 This illustration uses data obtained by NASA's Juno mission to depict high-altitude electrical storms on Jupiter. Juno's sensitive Stellar Reference Unit camera detected unusual lightning flashes on Jupiter's dark side during the spacecraft's close flybys of the planet. Image Credit: NASA/JPL-Caltech/SwRI/MSSS/Gerald Eichstädt
› Full image and caption
The spacecraft may have found where the colorless gas has been hiding on the solar system's biggest planetary inhabitant.
New results from NASA's Juno mission at Jupiter suggest our solar system's largest planet is home to what's called "shallow lightning." An unexpected form of electrical discharge, shallow lightning originates from clouds containing an ammonia-water solution, whereas lightning on Earth originates from water clouds. …Continue reading
---
---
Lebanon: Support for hospitals top UN priority in the wake of deadly blast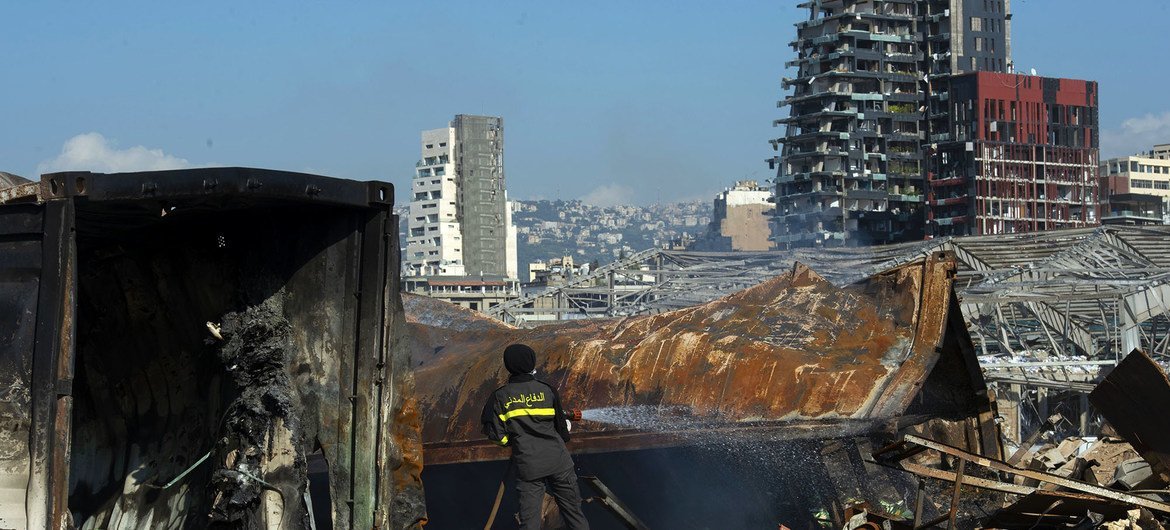 UNIFIL Large swaths of Beirut were destroyed as a result of the explosion in the city's port.
8/6 –
Newport News Tax Preparer Pleads Guilty to Preparing False Return 08/07/2020 12:00 AM EDT
A Newport News, Virginia, tax preparer pleaded guilty today to aiding and assisting the preparation of a false tax return, announced Principal Deputy Assistant Attorney General Richard E. Zuckerman of the Justice Department's Tax Division and U.S. Attorney G. Zachary Terwilliger for the Eastern District of Virginia.
Biofuel Fraudster Sentenced to Seven Years in Prison for Scamming Multiple Federal Agencies and Customers 08/06/2020 12:00 AM EDT
The owner of a biofuel company was sentenced to seven years in prison followed by a three-year term of supervised release and ordered to pay $10,207,000 in restitution for defrauding multiple federal agencies and customers.
Five Charged in Connection with an over $4 Million Paycheck Protection Program Fraud Scheme 08/06/2020 12:00 AM EDT
Five individuals were charged in an indictment with fraudulently obtaining more than $4 million in Paycheck Protection Program (PPP) loans and using those funds, in part, to purchase luxury vehicles. Authorities have seized a Range Rover worth approximately $125,000, jewelry, over $120,000 in cash, and over $3 million from 10 bank accounts at the time of arrest.
Company President and Employee Arrested in Alleged Scheme to Violate the Export Control Reform Act 08/06/2020 12:00 AM EDT
Assistant Attorney General for National Security John C. Demers, Audrey Strauss, the Acting U.S. Attorney for the Southern District of New York, and Jonathan Carson, Special Agent in Charge of the New York Field Office of the U.S. Department of Commerce, Office of Export Enforcement (OEE), announced the arrests today of Chong Sik Yu, a/k/a "Chris Yu," and Yunseo Lee. Yu and Lee are charged with conspiring to unlawfully export dual-use electronics components, in violation of the Export Control Reform Act, and to commit wire fraud, bank fraud, and money launderin g. Yu and Lee were arrested this morning and are expected to be presented later today before U.S. Magistrate Judge Kevin Nathaniel Fox in Manhattan federal court.
Justice Department Seeks Forfeiture of Two Commercial Properties Purchased with Funds Misappropriated from PrivatBank in Ukraine 08/06/2020 12:00 AM EDT
The United States filed two civil forfeiture complaints today in the U.S. District Court for the Southern District of Florida alleging that commercial real estate in Louisville, Kentucky, and Dallas, Texas, both acquired using funds misappropriated from PrivatBank in Ukraine, are subject to forfeiture based on violations of federal money laundering statutes.
Houston Attorney Sentenced to Prison for Offshore Tax Evasion Scheme 08/06/2020 12:00 AM EDT
A Houston, Texas attorney was sentenced to 24 months in prison today for conspiring to defraud the United States and tax evasion, announced Principal Deputy Assistant Attorney General Richard E. Zuckerman of the Justice Department's Tax Division and U.S. Attorney Ryan K. Patrick for the Southern District of Texas.
Arkansas Project Manager Pleads Guilty to Bank Fraud and False Statements in Connection with COVID-Relief Fraud 08/06/2020 12:00 AM EDT
A project manager employed by a major retailer has pleaded guilty to bank fraud charges for filing fraudulent bank loan applications seeking more than $8 million in forgivable Paycheck Protection Program (PPP) loans guaranteed by the Small Business Administration (SBA) under the Coronavirus Aid, Relief, and Economic Security (CARES) Act.
Former Venezuelan Official Charged in Connection with International Bribery and Money Laundering Scheme 08/06/2020 12:00 AM EDT
Charges were unsealed today against a former official at Citgo Petroleum Corporation, a Houston-based subsidiary of Venezuela's state-owned and state-controlled energy company Petróleos de Venezuela S.A. (PDVSA).
Indiana Man Charged with Hate Crime for Making Racially-Motivated Threats Towards Black Neighbor, and With Unlawful Possession of Firearms 08/06/2020 12:00 AM EDT
The Justice Department announced today that Shephard Hoehn, 50, has been charged by criminal complaint in federal district court with one count of violating 42 U.S.C. § 3631 for making threats to intimidate and interfere with his African-American neighbor because of the neighbor's race and because of his use and enjoyment of his property, as well as two counts of violating 18 U.S.C. § 922(g) for unlawfully possessing firearms.
Operation Legend Expanded to Memphis and St. Louis 08/06/2020 12:00 AM EDT
Nine Charged with $24 Million COVID-Relief Fraud Scheme 08/06/2020 12:00 AM EDT
The owner of a Florida talent management company and four others were charged in complaints unsealed yesterday for their alleged participation in a scheme to file fraudulent loan applications seeking more than $24 million in forgivable Paycheck Protection Program (PPP) loans guaranteed by the Small Business Administration (SBA) under the Coronavirus Aid, Relief, and Economic Security (CARES) Act.
North Carolina Man Pleads Guilty to Violating Fair Housing Act and Threatening a Family Because of Their Race 08/06/2020 12:00 AM EDT
The Justice Department announced today that Douglas Matthew Gurkins, 34, pleaded guilty today in federal court in the Eastern District of North Carolina to one count of criminal interference with the Fair Housing Act, for using threats of force against an African American family because of the family members' race and because they were renting a dwelling.
---
---
---
---
OpenWHO
Global News
New courses and languages on OpenWHO
Highlights can be accessed in Chinese, French, Portuguese, Russian and Spanish. Frequently Asked Questions (FAQ)The FAQ page is now available in English, French, Portuguese, Russian and Spanish and can be found here. Chinese to follow.
Channel descriptions A short description of each channel is now available in Chinese, English, French, Portuguese, Russian and Spanish. Channels can be accessed by clicking on the "Channels" drop-down menu button that is located at the top of the OpenWHO homepage, between the "Home" and "Courses" buttons.New courses and languages for COVID-19New courses launchedWe are pleased to announce the following COVID-19 courses which have recently become available on OpenWHO:
Infection Prevention and Control (IPC) core components and multimodal strategies: In this introductory course you will learn the essential components of effective IPC programmes, including multimodal strategies for implementation, at the national and facility level, according to scientific evidence and the advice of WHO and international experts.
WHO COVID-19 Mass Gatherings Risk Assessment Training: The purpose of this course is to provide guidance for health authorities and organizers of mass gatherings in the context of the COVID-19 pandemic, with the specific aim of containing risks associated with transmission of this infection.
Basic microbiology: In this course, you will learn about how disease-causing microbes, called pathogens, are classified, identified and transmitted. You will be introduced to basic microbiological principles, fundamental laboratory diagnostics and mechanisms by which microbes transmit and cause diseases.New translationsThe following 10 translations for COVID-19 have been launched this month:Standard precautions for hand hygiene in Chinese, Spanish and Dutch
A general introduction to emerging respiratory viruses, including novel coronaviruses in Dari, Kurdish, Oromoand Somali
IPC for COVID-19 in Dutch and Tetum
How to put on and remove PPE for COVID-19 in Russian
All courses for COVID-19 can be accessed here
Videos now available: Videos have recently been added to the following:
COVID-19 operational planning guidelines and partners platform to support country preparedness and response in Arabic.
Health and safety briefing for respiratory diseases – ePROTECT in Arabic and Spanish.
How to wear fabric and medical masks in Indian Sign Language.
You can use the toolbar to filter courses by language.
---
---
---
---
---
---
---
Condé Nast Spotlight
TEEN VOGUEAriana Grande Is Releasing a New Perfume
It'll be her sixth.
CONDÉ NAST TRAVELERExperts Say This Is the Safest Way to Travel During COVID-19
Breaking down the likelihood of catching the virus when flying, driving, or taking a train.
VANITY FAIRMeghan Markle Books a New High-Profile Gig— As an Interviewer
The royal will be interviewing the CEO of The 19th, a new nonprofit, nonpartisan newsroom with a focus on gender, politics, and policy.
GLAMOURLady Gaga Accidentally Scratched Ariana Grande's Eye Rehearsing for the 'Rain on Me' Video
PITCHFORKUnwound Bassist Vern Rumsey Dead at 47
GQGrizzlies-Jazz Was the Coolest Jersey Matchup in Recent NBA History
WIREDThe US Is Disastrously Behind in Covid-19 Testing. Again
Spotlight: Racism in America
BON APPÉTITFrom Pandemic to Protests: How Food Businesses Nationwide Are Responding
CONDÉ NAST TRAVELERInside Audacity Fest, Where Black Travelers Have an Open Conversation about Travel
GLAMOUREvery TV Show That's Been Canceled in 2020
VANITY FAIRWhy Gallows Humor Might Just Rescue This Year of WTFs
Spotlight: The Latest on The Coronavirus
TEEN VOGUEIf Congress Fails, Mutual Aid Organizers Are Still Ready to Step Up
SELFJust How Risky Are Pool Hangouts, Anyway?
THEM.Toxic, Homophobic Men More Likely to Have Mental Health Issues, Study Finds
CONDÉ NAST TRAVELERU.S. Cruise Ships Suspend Operations through October 31 Amid Coronavirus
---
8/7 –
Attorney General Barr Chairs Meeting of the Federal Interagency Council on Crime Prevention and Improving Reentry 08/07/2020 12:00 AM EDT
Federal Court Terminates Paramount Consent Decrees 08/07/2020 12:00 AM EDT
WASHINGTON – A federal court in the Southern District of New York today terminated the Paramount Consent Decrees, which for over seventy years have regulated how certain movie studios distribute films to movie theatres. The review and termination of these Decrees were part of the Department of Justice's review of legacy antitrust judgments that dated back to the 1890's and has resulted in the termination of nearly 800 perpetual decree
---
---
---
---
A lightly challenging puzzle.
By Wyna Liu
---
Alcohol Use and Co-Use of Other Substances Among Pregnant Females Aged 12–44 Years—United States, 2015–2018
CDC researchers analyzed 2015–2018 data from the National Survey on Drug Use and Health and found that about 10% of pregnant women reported current alcohol use (at least one alcoholic drink in the past 30 days). Alcohol use among women in the first trimester was higher than among women in the second or third trimester. The use of other substances was common among pregnant women who reported alcohol use—about 40% reported current use of one or more other substances, most commonly tobacco and marijuana. Alcohol use during pregnancy can cause birth defects and developmental disabilities known as fetal alcohol spectrum disorders. Increased screening and interventions for alcohol and other substances in pregnancy could improve the health of women and their children.
To learn more, read the Key Findings Report or full article.
---
Zika Virus Disease and Pregnancy Outcomes in Colombia
Scientists from Colombia's Instituto Nacional de Salud and CDC reviewed data on pregnant women in Colombia who had Zika infection during the widespread Zika virus outbreak in 2015-2016. Birth defects were common during this outbreak and among women with Zika infection in their first trimester. These findings highlight the importance of monitoring both Zika virus exposure and birth defects. Monitoring both helps us see the full impact of Zika virus infection during pregnancy.
---
Use of Specific Antidepressants During Early Pregnancy and Risk for Birth Defects
Using data from CDC's National Birth Defects Prevention Study, researchers found that use of the antidepressant venlafaxine (Effexor®) during early pregnancy may be linked to several birth defects, including heart defects, defects of the brain and spine, cleft lip and cleft palate, hypospadias, and gastroschisis. Several other medicines, such as sertraline (Zoloft®), fluoxetine (Prozac®), paroxetine (Paxil®), and citalopram (Celexa®) were each associated with a small number of different birth defects. These findings, which support other previous research findings, may help healthcare providers and their patients weigh the risks and benefits of different medications to help determine the safest treatment options for women and their developing babies.
---
---
NASA Maps Beirut Blast Damage
Scientists are using satellite data to map ground surface changes in the aftermath of the recent explosion.
NASA's Advanced Rapid Imaging and Analysis (ARIA) team, in collaboration with the Earth Observatory of Singapore, used satellite-derived synthetic aperture radar data to map the likely extent of damage from a massive Aug. 4 explosion in Beirut. Synthetic aperture radar data from space shows ground surface changes from before and after a major event like an earthquake. In this case, it is being used to show the devastating result of an explosion.
---
A group of UN independent human rights experts have called on countries to lift – or at the very least, ease – sanctions to allow affected nations and communities access to vital supplies to fight against the global coronavirus pandemic.
8/8 –
---
8/9 –
---
---
Prince Charles 'keeping door open' for Prince Harry and Meghan Markle royal return
PRINCE CHARLES is keeping the door open for Prince Harry and Meghan Markle to return to the Royal Family, according to a source.
By KATIE HARRIS
Belarus election tensions erupt as president poised for victory – Army descend on capital
CONTROVERSY has sparked in Belarus following the release of the primary polling data in the country's election today as the current President of the state seeks election for the sixth time.
China's mysterious 8,000-year-old structure 'guarded by military' could hold key secrets
CHINA has a number of mysterious pyramids hidden in the overgrown countryside, reportedly "guarded by the military" to prevent them being probed, but experts think they could be key to understanding more about the country's ancient history.
By CALLUM HOARE
---
Putting Sexual Pleasure in the Spotlight: Teen Vogue and The Case for Her D&AD New Blood Award Winners
These young people are finding unique ways to talk about sexual pleasure.
---
Condé Nast Spotlight
GLAMOURSelena Gomez and Taylor Swift Have Talked About Recording Music Together
"I've always dreamt of doing a song with Taylor."
THE NEW YORKERHow to Counter Trump's Attempt to Manipulate the Election and the Census
Vanita Gupta, who ran the Department of Justice's Civil Rights Division under President Obama, discusses threats to the Post Office, the census count, and the November election.
TEEN VOGUERobert Pattinson Tried to Lie His Way Out of Work for a "Batman" Audition
He was immediately found out.
VANITY FAIR"Absurdly Unconstitutional": Trump Bypasses Congress From His Private Golf Club
ALLUREJonathan Van Ness Just Got a Lob Haircut, and I'm in Love
VOGUEZoë Kravitz Calls Out Hulu Over Lack of Diversity After Cancellation of High Fidelity
CONDÉ NAST TRAVELERThe Hotel Experience Is Set to Change Way Beyond Cleaning Protocols Due to COVID-19
Spotlight: Racism in America
WIREDTrump's WeChat Ban May Alienate His Chinese Supporters
THE NEW YORKERCan Minneapolis Dismantle Its Police Department?
VANITY FAIROprah Buys 26 Billboards in Kentucky to Demand Justice for Breonna Taylor
SELFIn This World, Running Is No Longer the Refuge It Used to Be
Spotlight: The Latest on The Coronavirus
THE NEW YORKERHow Did I Catch the Coronavirus?
THEM.Black LGBTQ+ People More Likely to Be Financially Impacted by COVID-19
ARCHITECTURAL DIGESTHow Safe Is It to Meet With a Client Right Now? And More Coronavirus Risks, Addressed
SELFFacebook Removes Trump Post Over COVID-19 Misinformation
---
8/10 –
West Virginia Doctor Found Guilty of Unlawfully Distributing Opioids 08/10/2020 12:00 AM EDT
A federal jury found a West Virginia doctor guilty today of unlawfully distributing opioids to his patients. The defendant was charged in a September 2019 indictment as part of the second Appalachian Regional Prescription Opioid (ARPO) Strike Force Takedown, a coordinated effort by the Justice Department's Fraud Section to target unlawful drug diversion activities in areas of the country particularly hard-hit by the opioid epidemic.
Brooklyn Man Pleads Guilty in Manhattan Federal Court to Attempting to Provide Material Support to ISIS 08/10/2020 12:00 AM EDT
The Department of Justice announced that Zachary Clark, a/k/a "Umar Kabir," a/k/a "Umar Shishani," a/k/a "Abu Talha," pleaded guilty to attempting to provide material support to the Islamic State of Iraq and al-Sham (ISIS). Clark pled guilty today in Manhattan federal court before U.S. District Judge Naomi Reice Buchwald. Judge Buchwald is scheduled to sentence Clark on Feb. 9, 2021, at 12:00 p.m
Eastern Kentucky Doctor and Assistant Plead Guilty to Unlawfully Distributing Opioids 08/10/2020 12:00 AM EDT
A Kentucky doctor and his former office assistant pleaded guilty on Aug. 7 for their roles in unlawfully distributing opioids and other controlled substances during a time when the defendants did not have a legitimate medical practice.
---
---
---
---
---
---
Mystery Solved: Bright Areas on Ceres Come From Salty Water Below
Data from NASA's recent Dawn mission answers two long-unresolved questions: Is there liquid inside Ceres, and how long ago was the dwarf planet geologically active?
NASA's Dawn spacecraft gave scientists extraordinary close-up views of the dwarf planet Ceres, which lies in the main asteroid belt between Mars and Jupiter. By the time the mission ended in October 2018, the orbiter had dipped to less than 22 miles (35 kilometers) above the surface, revealing crisp details of the mysterious bright regions Ceres had become known for.
---
Young people have a major role to play in ridding the world of nuclear weapons
Nuclear weapons are still one of the most serious threats to mankind, and the dangers are growing. Young people can play an important role in ensuring that they are eliminated once and for all, says the UN's top disarmament official, ahead of International Youth Day on 12 August.
8/11 –
Manhattan Man Sentenced to 15 Years in Prison for Attempting to Provide Material Support to Terrorist Organization 08/11/2020 12:00 AM EDT
The Department of Justice announced today that Jesus Wilfredo Encarnacion, a/k/a "Jihadistsoldgier," "Jihadinhear," "Jihadinheart," "Lionofthegood," was sentenced to 15 years in prison for attempting to provide material support to Lashkar e-Tayyiba (LeT), a Pakistan-based designated foreign terrorist organization responsible for multiple high-profile attacks, including the infamous Mumbai attacks in November 2008. In addition, Encarnacion was sentenced to a lifetime term of supervised release. Encarnacion pleaded guilty on Jan. 22, 2020, before United States District Judge Ronnie Abrams, who also imposed today's sentence.
Statement from Attorney General William P. Barr on the Resignation of Seattle Police Chief Carmen Best 08/11/2020 12:00 AM EDT
Attorney General William P. Barr issued the following statement in response to the resignation of Seattle Police Chief Carmen Best:
Justice Department Releases Report On Modernizing The Administrative Procedure Act 08/11/2020 12:00 AM EDT
WASHINGTON – The Justice Department released a report today on the need for Congress to update and improve the Administrative Procedure Act (APA), the 74-year-old statute setting forth the procedures agencies must follow when regulating individuals, businesses, non-profits, and state and local government entities. The report, entitled Modernizing the Administrative Procedure Act, discusses how the administrative state has developed in ways not foreseen by the APA in 1946, how the APA might be legislatively improved, and how this Administration's improvements to agencies' regulatory processes could inform modernizing the APA. The Justice Department, which significantly shaped the original APA, hopes that the ideas and insights discussed in the report will encourage and inform much needed action by Congress to modernize the APA.
---
---
---
---
---
US CENSUS BUREAU WEBINAR
OnTheMap: The Road to Employment Dynamics
Exploring Census Data Webinar Series: New Businesses Statistics
---
BOOZ / ALLEN / HAMILTON
This virtual event features directed energy experts and military thought leaders.
⬆WEBINAR⬇
DIRECTED ENERGY SERIES VIRTUAL EVENT 2
Applying Modular Open Systems Architecture to Directed Energy Weapons
Congress, the Office of the Secretary of Defense and the service leads have made it clear that Modular Open Systems Architecture (MOSA) is a warfighting imperative for all weapons systems–and directed energy weapons are no exception. As the Office of the Under Secretary of Defense for Research and Engineering stands up an Open Systems Architecture working group for directed energy weapons, how can DoD realize the benefits of MOSA without adversely impacting the continued innovation from industry needed to support U.S. Defense Strategy?
Join us for a virtual event with key government and industry stakeholders as they discuss modularity, interfaces, architectures and systems as part of the open systems architecture plans and strategy for service directed energy weapons. Register Now

Virtual Event Details:
What You'll Learn:
12:00 – 1:00 pm EDT
Registration is free
How the Office of the Under Secretary of Defense for Research and Engineering is approaching the working group process for directed energy weapons open systems architectures, including timelines, objectives and outcomes
The important distinction between "standards" and "interface standardization" in MOSA for directed energy weapons
Perspectives from industry on how to avoid unintended negative consequences as we develop and implement directed energy weapons open systems architectures, particularly for high energy laser systems
Host:
Joshua Peters
Chief Technologist for Directed Energy, Booz Allen Hamilton
Guest Speakers:
Christopher Behre, Jr.
Designated Lead for DEW MOSA by the Assistant Director, Directed Energy, OUSD(R&E) and Technical Director, Surface Navy Laser Weapon System Portfolio, Naval Surface Warfare Center, Dahlgren Division
Jeff Barchers
Vice President and CTO, nLight | Nutronics
---
COVID-19 is an emerging, rapidly evolving situation.
Get the latest public health information from CDC: https://www.coronavirus.gov
Get the latest research information from NIH: https://www.nih.gov/coronavirus
---
NIMH Instagram Event:
Anxiety and Stress in Children and Adolescents
Time: 1:00―1:30 PM ET
Occasional stress and anxiety are expected parts of everyday life, but for those who suffer from an anxiety disorder, the anxiety does not go away and can get worse over time if not treated. Going back to school can be stressful, especially with the added uncertainty surrounding the coronavirus (COVID-19) pandemic. Learning what causes or triggers your stress and what coping techniques work for you can help reduce your anxiety and improve your transition back to school.
With a new school year approaching, NIMH is hosting a live question and answer session on its Instagram story. During this event, you will be able to ask Krystal Lewis, Ph.D., a licensed clinical psychologist at NIMH, questions you may have about stress or anxiety in children and adolescents.
Participating is easy.
To participate and/or follow the chat, you must have an Instagram account.
Visit @NIMHgov and ask questions via our Instagram story by clicking on the designated question sticker.
1:00 p.m. ET
You will get a notification when your question is answered.
Follow @NIMHgov on Instagram for updates on the chat and other information about mental health research.
The chat will be archived in NIMH's story highlights so you can access it after the event is over.
Note: The experts cannot provide specific medical advice or referrals. Please consult with a qualified health care provider for diagnosis, treatment, and answers to your personal questions. If you need help finding a provider, visit www.nimh.nih.gov/findhelp.
---
---
Condé Nast Spotlight
TEEN VOGUEThe Women the 19th Amendment Left Behind
To mark the 100th anniversary of the 19th Amendment, The Uncounted is a series that elevates the stories of women of color who have been disenfranchised and often written out of history.
PITCHFORKHelena Deland Announces Debut Album Someone New, Shares Song: Listen
The Montreal singer-songwriter's full-length arrives in October
THE NEW YORKERTrump's Unprecedented Attacks on Our Public-Health System
The President's refusal either to lead or to recognize the leadership of others has made it impossible to develop a national plan to combat the coronavirus.
WIREDSan Francisco Was Uniquely Prepared for Covid-19
VANITY FAIRKalita al Swaidi Shares her Unique Sources of Inspiration
GLAMOURI Tried the NuFace Mini, and My Jawline Will Never Be the Same
VOGUEHere's What to Expect From Premarital Counseling, According to a Pro
Spotlight: Racism in America
VOGUEMembers of Poland's Parliament Staged a Protest With Their Clothes
GQNew York's Biggest New Hang Is a Fundraising Sidewalk Sale in Greenpoint
VANITY FAIRWilliam Barr, of All People, Accuses Black Lives Matter Protesters of Being "Fascistic"
BON APPÉTITFrom Pandemic to Protests: How Food Businesses Nationwide Are Responding
Spotlight: The Latest on The Coronavirus
SELFThe CDC Recommends Against Wearing a Face Mask With a Valve
CONDÉ NAST TRAVELER8 Hiking Essentials for a Day on the Trails
GLAMOURAntonio Banderas Is the Latest Celebrity to Test Positive for Coronavirus
THE NEW YORKERHow Did I Catch the Coronavirus?
---
---
Biden names Harris as VP pick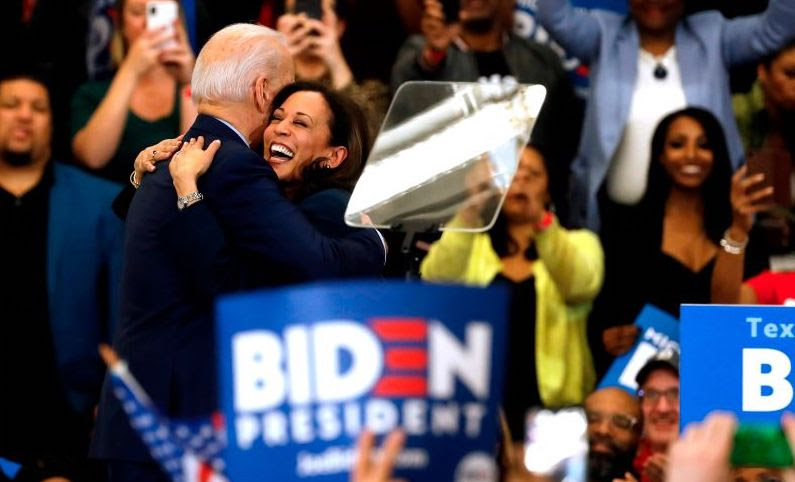 Joe Biden chose Sen. Kamala Harris as his vice-presidential running mate on Tuesday, ending months of intensifying speculation just six days before the Democratic National Convention begins on August 17.
Kamala Harris Brings Prosecutor's Legacy to Biden Ticket, for Better or Worse
---
---
🏀
PAST BUBBLE INTEL:
July 30 | July 31 | Aug. 1 | Aug. 2 | Aug. 3 | Aug. 4 | Aug. 5 | Aug. 6 | Aug. 7 | Aug. 8 | Aug. 9 | Aug. 10
Latest buzz
Suns starters announced by their families
NBA players have been at the Walt Disney World Resort inside the NBA's bubble for more than a month now, and their families won't be allowed to join them until after the first round of the playoffs. So the Phoenix Suns did the next best thing, having their starting five for Tuesday's game against the Philadelphia 76ers announced remotely by each player's family from home.
+
---
Citizen Leadership Awards Program
8:00 – 9:00 pm ET
Each summer, we come together to recognize leaders who have made important contributions to their own fields and society while also raising critical support for the Institute and its programs. This year, we are proud to present the Citizen Leadership Award to four individuals who have demonstrated true civic leadership during these uncertain times: Chef José Andrés, founder of World Central Kitchen; Satya Nadella, CEO of Microsoft; Dr. Anthony Fauci, head of the Center for Allergy and Infectious Diseases; and Mellody Hobson, President and co-CEO of Ariel Investments.
---
Somalia: Draft law a 'major setback' for victims of sexual violence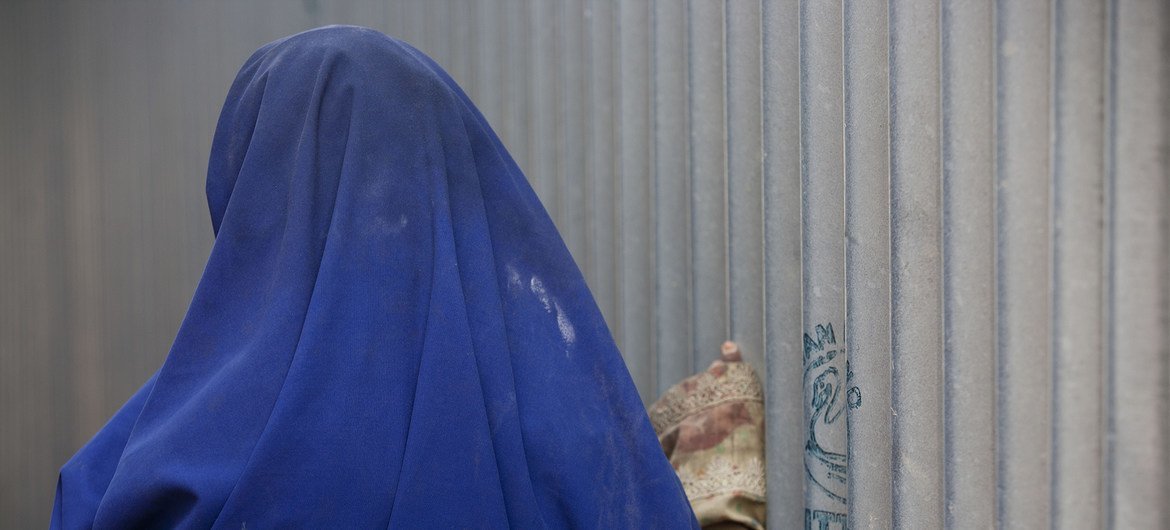 © UNICEF/Kate HoltA girl stands in a camp for displaced people, in Mogadishu, the capital. She was attacked and beaten following a food distribution (file).Law and Crime Prevention
The UN official working to end rape during wartime is urging authorities in Somalia to scrap a proposed law that allows for child marriage, among other "very disturbing provisions".
SOMALIA|UN SPECIAL REPRESENTATIVE ON SEXUAL VIOLENCE AND CONFLICT
---
8/12 –
---
Defendant Pleads Guilty In Multi-Million Dollar Prize Notification Scam Affecting Elderly Victims 08/12/2020 12:00 AM EDT
A Las Vegas area resident charged with perpetrating a prize-notification scheme that bilked victims out of more than $10 million pleaded guilty today, the Department of Justice announced.
Assistant Attorney General Beth A. Williams Delivers Opening Remarks at the Federalist Society, Colorado Lawyers Chapter Panel Discussion: "Reviewing the Supreme Court's 2019/20 Term" 08/12/2020 12:00 AM EDT
Thank you for that kind introduction, Will, and for the invitation to join you today. Though I wish I could join you in person, even at this distance, it is a great pleasure to be here with you all.
Justice Department Acts To Shut Down Fraudulent Websites Exploiting The Covid-19 Pandemic 08/12/2020 12:00 AM EDT
The United States Department of Justice announced today that it has obtained a Temporary Restraining Order in federal court to combat fraud related to the coronavirus (COVID-19) pandemic. The enforcement action, filed in Tampa, Florida, is part of the Justice Department's ongoing efforts prioritizing the detection, investigation, and prosecution of illegal conduct related to the pandemic. The action was brought based on an investigation conducted by United States Immigration and Customs Enforcement's (ICE) Homeland Security Investigations (HSI), in coordination with the Vietnam Ministry of Public Security.
---
---
---
---
By Daniel Bush , PBSNewsHour
Biden has his running mate…
---
---
---
---
American Association on Intellectual
and Developmental Disabilities (AAIDD)
Job Opportunities
Director of Development, Center for Enriched Living
Riverwoods, IL
Executive Director, Liberty Healthcare Corporation
Phoenix, AZ
Executive Director, Redwood Coast Regional Center (RCRC)
California
Executive Vice President, Chief Program Officer, Echoing Hills Village, Inc.
Warsaw, OH
Director of Quality and Strategic Implementation, Echoing Hills Village, Inc
Warsaw, OH
Director of Finance, Echoing Hills Village, Inc
Warsaw, OH
Business Manager, The Arc Tennessee
Nashville, TN
Executive Director, Pleasant View, Inc
Broadway, VA
President, VIABILITY
Springfield, MA
Executive Director, Liberty Healthcare Corporation
Lincoln, NE
Executive Director, TASH
Washington, DC
President & CEO, Step By Step
Wilkes Barre, PA
Executive Director, Ivy Street School
Brookline, MA
President & Chief Executive Officer, Avenues to Independence
Park Ridge, IL
Executive Director, Harbor Regional Center
Torrance, CA
Executive Director, The Arc of Tennessee
Nashville, TN
---
---
---
8/13 –
Statement from Attorney General William P. Barr on the Arrest of Kansas City Man Charged with the Murder of Four-Year-Old LeGend Taliferro 08/13/2020 12:00 AM EDT
Attorney General William P. Barr issued the following statement in response to the arrest of a Kansas City man accused of murdering four-year-old LeGend Taliferro, after whom the Department of Justice's Operation Legend is named.
Justice Department Finds Yale Illegally Discriminates Against Asians and Whites in Undergraduate Admissions in Violation of Federal Civil-Rights Laws 08/13/2020 12:00 AM EDT
The Department of Justice today notified Yale University of its findings that Yale illegally discriminates against Asian American and white applicants in its undergraduate admissions process in violation of Title VI of the 1964 Civil Rights Act. The findings are the result of a two-year investigation in response to a complaint by Asian American groups concerning Yale's conduct.
Department of Justice Awards over $1 Million in Forensic Grants to Aid Wyoming Investigators 08/13/2020 12:00 AM EDT
Global Disruption of Three Terror Finance Cyber-Enabled Campaigns 08/13/2020 12:00 AM EDT
The Justice Department today announced the dismantling of three terrorist financing cyber-enabled campaigns, involving the al-Qassam Brigades, Hamas's military wing, al-Qaeda, and Islamic State of Iraq and the Levant (ISIS). This coordinated operation is detailed in three forfeiture complaints and a criminal complaint unsealed today in the District of Columbia. These actions represent the government's largest-ever seizure of cryptocurrency in the terrorism context.
Nevada Woman Charged with COVID-Relief Fraud 08/13/2020 12:00 AM EDT
A Nevada woman was charged in a criminal complaint unsealed Wednesday with fraudulently seeking over $1 million in Paycheck Protection Program (PPP) loans, announced Acting Assistant Attorney General Brian C. Rabbitt of the Justice Department's Criminal Division and U.S. Attorney Nicholas A. Trutanich of the U.S. Attorney's Office for the District of Nevada
---
---
---
---
STOPPING PANDEMICS
Please join us for an EXCLUSIVE CONVERSATION with Dr. Anthony Fauci and experts from National Geographic and ABC News, as well as Washington, D.C. Mayor Muriel Bowser, on why the pandemic is wreaking havoc on communities, and the lessons we can learn from pandemics throughout history.
1:00 PM EST
OPENING CONVERSATION
Dr. Anthony Fauci
Director, National Institute of Allergy and Infectious Diseases
Anthony S. Fauci, M.D., is director of the National Institute of Allergy and Infectious Diseases at the U.S. National Institutes of Health, where he oversees an extensive research portfolio devoted to preventing, diagnosing, and treating infectious and immune-mediated diseases. Dr. Fauci has been a key advisor to six presidents and their administrations on global AIDS issues, and on initiatives to bolster medical and public health preparedness against emerging infectious disease threats such as pandemic influenza.
PARTICIPANTS
Susan Goldberg
Editorial Director, National Geographic Partners, and Editor in Chief, National Geographic magazine
Mayor Muriel Bowser
Mayor, District of Columbia
Dr. Jennifer Ashton
Chief Medical Correspondent, ABC News
Richard Conniff
Contributing writer, National Geographic, The New York Times and more, and author of the upcoming book Ending Epidemics
Nsikan Akpan
Science Editor, National Geographic
MODERATED BY
Deborah Roberts
ABC News Correspondent
Deborah Roberts is an award-winning ABC News Correspondent for 20/20, Nightline, Good Morning America and World News Tonight with David Muir. Roberts' long-form reports on 20/20 have consistently produced extraordinary narratives, such as an intimate profile of First Lady Michelle Obama and first daughter Ivanka Trump. She was part of the historic coverage of the inauguration of President Barack Obama. Roberts has been awarded multiple Emmy awards for her international and national coverage of world events, including her poignant reporting on an Ethiopian-American woman's emotional journey back to her African village to discover her long-lost mother.
---
8/14 –
Department of Justice Publishes Proposed Regulations Articulating the Registration Requirements for Sex Offenders under the Sex Offender Registration and Notification Act 08/14/2020 12:00 AM EDT
The Department of Justice has published proposed regulations that provide a clear and comprehensive statement of sex offenders' registration requirements under the federal Sex Offender Registration and Notification Act (SORNA). SORNA requires convicted sex offenders to register in the states in which they live, work, or attend school, and it directs the Attorney General to issue regulations and guidelines to implement SORNA.
Readout of Roundtable Event with Attorney General Barr and Members of State and Local Law Enforcement in Cheyenne, Wyoming08/14/2020 12:00 AM EDT
On Thursday, August 13th, Attorney General William P. Barr visited Cheyenne, Wyoming to lead a roundtable discussion with over 30 Wyoming police chiefs, sheriffs and other members of state and local law enforcement. The Attorney General was joined by U.S. Attorney Mark Klaassen, DEA Acting Director Tim Shea and Interim Director of Wyoming Division of Criminal Investigation Forrest Williams. The Attorney General in his opening remarks conveyed his gratitude for the critical work local law enforcement officers do every day to protect their communities.
Justice Department Brings Enforcement Action Against Centurylink08/14/2020 12:00 AM EDT
The Department of Justice announced today that CenturyLink, Inc. has agreed to settle allegations that CenturyLink violated the court-ordered Final Judgment designed to prevent anticompetitive effects arising from its acquisition of Level 3 Communications, Inc.
Largest U.S. Seizure of Iranian Fuel from Four Tankers 08/14/2020 12:00 AM EDT
The Justice Department today announced the successful disruption of a multimillion dollar fuel shipment by the Islamic Revolutionary Guard Corps (IRGC), a designated foreign terrorist organization that was bound for Venezuela. These actions represent the government's largest-ever seizure of fuel shipments from Iran.
Operation Legend Expanded to Indianapolis 08/14/2020 12:00 AM EDT
Today, the expansion of Operation Legend was announced in Indianapolis. Operation Legend is a sustained, systematic and coordinated law enforcement initiative in which federal law enforcement agencies work in conjunction with state and local law enforcement officials to fight violent crime. The Operation was first launched on July 8 in Kansas City, MO., and expanded on July 22, 2020, to Chicago and Albuquerque, to Cleveland, Detroit, and Milwaukee on July 29, 2020, and to St. Louis and Memphis on August 6, 2020.
---
---
---
---
A lightly challenging puzzle.
---
PSYCHOLOGY TODAY
– repost from 12/07/15
Find a Therapist (City or Zip)
Theo Tsaousides Ph.D.
7 Ways 'Fearless' People Conquer Fear
5. They overprepare but they don't overreact.
You may believe that brave and courageous people have no fear. Wrong.
Courageous people are as afraid as anyone else. It is actually their fear that makes them courageous, not the lack of it. But they manage their fear differently.
It's not a stretch to say that people who truly have no fear are either sociopaths or have severe brain damage. For the rest of us, being "fearless" means knowing how to leverage fear. article continues after advertisement
How do fearless people do that? How do they become fearless without being thoughtless?
1. They respect fear.
Fearless people are not afraid to be afraid. They are comfortable acknowledging their fear. They know fear is hardwired into our nervous system and therefore impossible to shut down. They understand that the role of fear is to warn and protect, not to scare and prevent. For them fear is not an enemy. It is an ally that guides them through high-stakes situations and ensures goal achievement.
2. They understand the mechanics of fear.
Fearless people recognize that fear is a complex experience made up of interactive physical, emotional, and mental components. They know that fear goes beyond feelings of worry and dread, and that their own thoughts can exacerbate their fears by making things seem scarier than they really are. They understand that their own actions can determine the degree of impact fear will have on their lives.
3. They explore the origin of their fear.
When fear arises, fearless people don't let it linger. They want to know what is causing it. Fearless people realize that fear is not so much about what scares you but about why it scares you. And there are three main reasons why something scares you:
Biology: You are designed to be scared of it. There are a number of things that we are genetically predisposed to be afraid of—snakes, for example.
Past experience: It (or something very similar) scared you a lot in the past. Fear can be learned and conditioned. If you have been in a bad car accident, you may become afraid of driving.
Forecasting: You worry about the future. Fear emerges when you expect that your predicament or your actions could have serious and harmful consequences for your life, your health, your freedom, your relationships, or your self-esteem.
article continues after advertisement
4. They focus on building confidence.
There is no better antidote to fear than self-confidence. The more confident you are about your ability to handle what scares you, the more secure you will feel.
Building confidence is a result of acquiring knowledge, mastering a skill, and gaining experience. Getting the facts lessens the intensity of fear by making things seem less scary and more preventable. Mastering a skill, whether public speaking or job interviewing, shifts your focus from fear of failing to active coping. Finally, the more experience, direct or vicarious, you gain, the less of a barrier to success fear becomes.
5. They overprepare without overreacting.
Fearless people don't spend time worrying about the worst-case scenario—they prepare for it. They make a plan, and they have a backup plan. They overprepare without overreacting, obsessing, or ruminating.
In Chapman University survey, more than 50 percent of respondents stated that they were very afraid they would experience a natural or manmade disaster in their lifetime, and 86 percent believed that preparing ahead of time (e.g., putting together an emergency kit) would increase their odds of survival significantly. Yet, only one in four had actually made any efforts to prepare for such an event. Imagine how much more scared those three out of four people will be when the Weather Channel outlines the path of a powerful hurricane.
THE BASICS
6. They take action despite their fear, not because of it.
Ultimately, what determines the outcomes you achieve in life are the actions you do or do not take. And fear will interfere. Fear-engineered actions range from tackling what scares you head on to working through it despite your fear. Fearless people strategize. They plan and evaluate their actions. They know when to push forward and when to pull back. They know what risks are worth taking and which ones they should avoid. And when things get out of hand…article continues after advertisement
7. They are not afraid to ask for help.
Despite its incredible evolutionary value, fear is not a fun feeling. It is an inherently unpleasant experience that causes physical discomfort, emotional distress, and mental turmoil.
When a person doesn't deal with fear properly, it can become pathological. According to the National Institute of Mental Health, almost one out of five adults will suffer from an anxiety disorder in a given year. The psychiatric literature reports over 100 phobias, disorders which manifest in a persistent and irrational fear of objects or situations.
Fearless people know when to seek help. When a worry becomes excessive and anxiety interferes with daily life, it is time to consult a professional.
This is the last of a three-part series on fear. Be sure to read Part One and Part Two as well.
---
---
---
Condé Nast Spotlight
TEEN VOGUEDigital Sex Is Here to Stay, So Let's Make it Safer
ARCHITECTURAL DIGESTA Stunning Online Exhibition Shows the Power of Tranquility in the Age of COVID-19 Artist Mary Little's Reflections, which runs from August 15 to October 15, 2020, evokes the serenity of the Irish countryside of her youth.
CONDÉ NAST TRAVELERCoronavirus and Travel: Everything You Need to Know As destinations slowly open up—and lockdown again—here's what to expect.
VOGUEWhy These Cheap Wireless Earbuds From Urbanears Feels Like a Steal
VANITY FAIRCardi B Says She Spent $100,000 on Coronavirus Tests to Film "WAP" Music Video
SELF13 Face Mask Chains That Look Cute and Keep Your Mask On
THE NEW YORKERWhat's Happening to All the CARES Act Money?
GQThe 19 Best New Menswear Items to Buy This Week
Spotlight: Racism in America
GLAMOURDolly Parton: 'Of Course Black Lives Matter'
THE NEW YORKERWe Should Still Defund the Police
VOGUEVoices From Generation COVID: The Class of 2020 Preps for College in the Middle of a Pandemic
VANITY FAIRHow Prince Harry and Meghan Markle Could Actually Combat Colonialism's Destructive Legacy
Spotlight: The Latest on The Coronavirus
SELFCDC Director Says This Fall Could Be 'the Worst' One We've Ever Had Thanks to COVID-19
---
NASA's ECOSTRESS Monitors California's Record-Breaking Heat Wave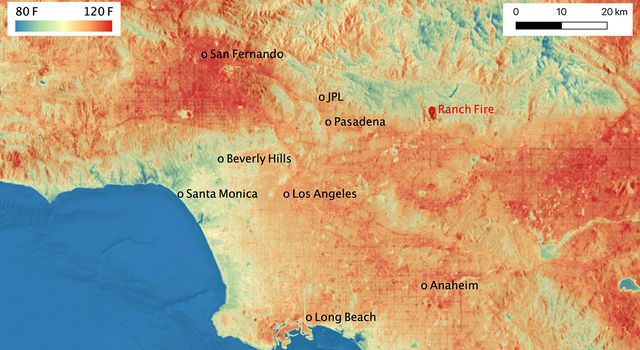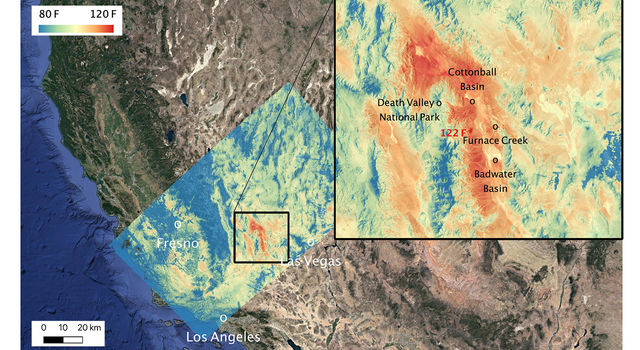 This ECOSTRESS temperature map shows the land surface temperatures throughout Los Angeles County on Aug. 14, 2020, during a heat wave.Image credit: NASA/JPL-Caltech
› Larger view
From cities to deserts, the intense heat gripping California is being closely monitored by an Earth-observing mission aboard the International Space Station.
As record temperatures and large wildfires scorch California, NASA's Ecosystem Spaceborne Thermal Radiometer Experiment on Space Station (ECOSTRESS) has been tracking the heat wave from low Earth orbit. While ECOSTRESS's primary mission is to measure the temperature of plants heating up as they run out of water, it can also measure and track heat-related phenomena like heat waves, wildfires, and volcanoes.
---
UN chief welcomes Israel-UAE agreement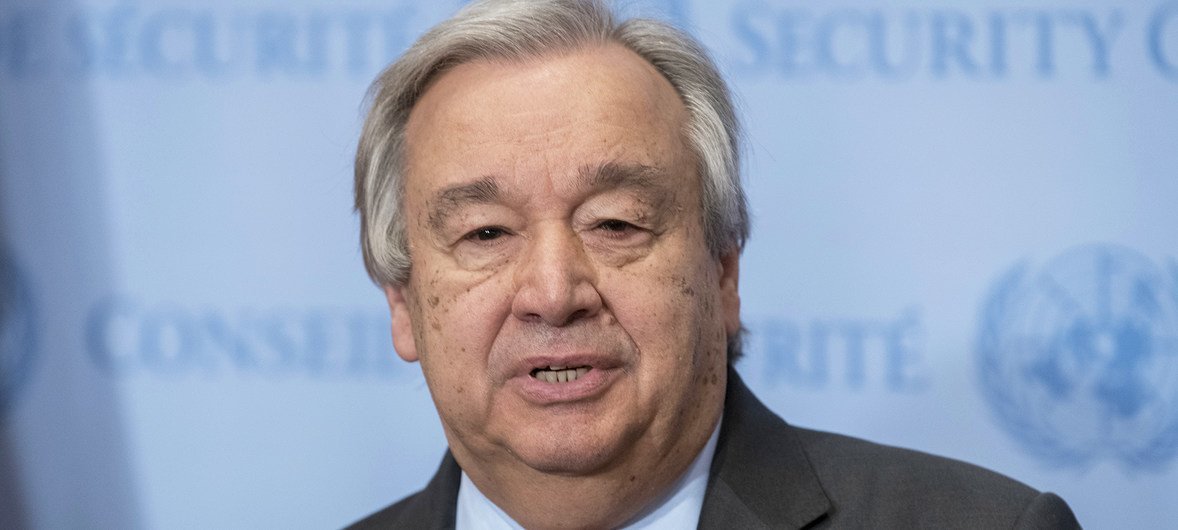 UN Photo/Mark GartenUN Secretary-General António Guterres.Peace and Security
The UN Secretary-General António Guterres has welcomed a joint statement by the leaders of the United States, Israel and the United Arab Emirates, which suspends Israeli annexation plans over parts of the occupied West Bank, something the UN has consistently called for.
"Annexation would effectively close the door for a renewal of negotiations and destroy the prospect of a viable Palestinian State and the two-State solution," Mr. Guterres said in a statement issued by his spokesperson on Thursday.
The Secretary-General also expressed hope that the agreement "will create an opportunity for Israeli and Palestinian leaders to re-engage in meaningful negotiations that will realize a two State-solution in line with relevant UN resolutions, international law and bilateral agreements."
"Peace in the Middle East is more important than ever as the region confronts the grave threats of COVID-19 and radicalization," he added.
The Secretary-General will continue to work with all sides to open further possibilities for dialogue, peace and stability, the statement added.
8/15 –
---
---
8/16 –
---
---
(/ˈtɛslə/; Serbian Cyrillic: Никола Тесла [nǐkola têsla]; 10 July 1856 – 7 January 1943) was a Serbian-American inventor, electrical engineer, mechanical engineer, and futurist who is best known for his contributions to the design of the modern alternating current (AC) electricity supply system.
"If you want to find the secrets of the universe, think in terms of energy, frequency and vibration."
8/17 –
Former CIA Officer Arrested and Charged with Espionage08/17/2020 12:00 AM EDT
Alexander Yuk Ching Ma, 67, a former Central Intelligence Agency (CIA) officer, was arrested on Aug. 14, 2020, on a charge that he conspired with a relative of his who also was a former CIA officer to communicate classified information up to the Top Secret level to intelligence officials of the People's Republic of China (PRC). The Criminal Complaint containing the charge was unsealed this morning.
Interagency Issues Advisory on Use of Technology to Detect and Mitigate Unmanned Aircraft Systems08/17/2020 12:00 AM EDT
Today, the Department of Justice (DOJ), the Federal Aviation Administration (FAA), the Department of Homeland Security (DHS), and the Federal Communications Commission (FCC) issued an advisory guidance document to help non-federal public and private entities better understand the federal laws and regulations that may apply to the use of capabilities to detect and mitigate threats posed by Unmanned Aircraft Systems (UAS) operations.
Former Deputy Jailer Sentenced to 48 Months for Violating the Civil Rights of an Inmate08/17/2020 12:00 AM EDT
​​​​​​​A former Shelby County Deputy Jailer, William Anthony Carey, 31, was sentenced by U.S. District Judge Gregory F. VanTatenhove to serve 48 months in federal prison for violating the civil rights of an inmate in his custody.
Puerto Rico Legislator Indicted for Theft, Bribery, and Fraud08/17/2020 12:00 AM EDT
A federal grand jury in the District of Puerto Rico returned a 13-count indictment against legislator María Milagros Charbonier-Laureano (Charbonier), aka "Tata," a member of the Puerto Rico House of Representatives, as well as her husband Orlando Montes-Rivera (Montes), their son Orlando Gabriel Montes-Charbonier, and her assistant Frances Acevedo-Ceballos (Acevedo), for their alleged participation in a years-long theft, bribery, and kickback conspiracy.
Justice Department Settles Claim Against California-Based Staffing Company for Favoring Temporary Visa Workers Over U.S. Workers08/17/2020 12:00 AM EDT
The Department of Justice announced today that it signed a settlement agreement with AllianceIT, a provider of IT staffing services based in Pleasanton, California. This is the tenth settlement under the Civil Rights Division's Protecting U.S. Workers Initiative, which is aimed at targeting, investigating, and taking enforcement actions against companies that discriminate against U.S. workers in favor of temporary foreign visa workers
Three Individuals Charged with Arranging Adoptions from Uganda and Poland Through Bribery and Fraud08/17/2020 12:00 AM EDT
Three women were charged in a 13-count indictment filed on Aug. 14 in the Northern District of Ohio for their alleged roles in schemes to corruptly and fraudulently procure adoptions of Ugandan and Polish children through bribing Ugandan officials and defrauding U.S. adoptive parents, U.S. authorities, and a Polish regulatory authority.
---
---
---
---
Alcohol Screening, Brief Intervention, and Referral to Treatment (SBIRT) for Girls and Women
Kyndal Hammock, Mary M. Velasquez, Hanan Alwan, and Kirk von Sternberg A public health strategy known as screening, brief intervention, and referral to treatment (SBIRT) has been shown to improve outcomes of alcohol use among women, but few providers make time to implement this important intervention. Could technology offer a solution? This review looks at barriers to using SBIRT and possible strategies for promoting its use among women of all ages.
---
CELEBRITY STYLE
Cardi B and Megan Thee Stallion's "WAP" Video Takes Us for a Ride
AD breaks down the design elements in the rappers' funhouse
By Sam Cochran
---
(/ˈhjuːdi/; January 23, 1888 – December 6, 1949), better known by the stage name Lead Belly, was an American folk and blues singer, musician and songwriter notable for his strong vocals, virtuosity on the twelve-string guitar, and the folk standards he introduced, including his renditions of "Goodnight, Irene", "Midnight Special", "Cotton Fields", and "Boll Weevil".
Lead Belly usually played a twelve-string guitar, but he also played the piano, mandolin, harmonica, violin, and windjammer. In some of his recordings, he sang while clapping his hands or stomping his foot.
Lead Belly's songs covered a wide range of genres and topics including gospel music; blues about women, liquor, prison life, and racism; and folk songs about cowboys, prison, work, sailors, cattle herding, and dancing. He also wrote songs about people in the news, such as Franklin D. Roosevelt, Adolf Hitler, Jean Harlow, Jack Johnson, the Scottsboro Boys and Howard Hughes. Lead Belly was posthumously inducted into the Rock and Roll Hall of Fame in 1988 and the Louisiana Music Hall of Fame in 2008.
Though many releases credit him as "Leadbelly", he himself wrote it as "Lead Belly", which is also the spelling on his tombstone and the spelling used by the Lead Belly Foundation.
---
Terrorism victims must never be forgotten: UN Secretary-General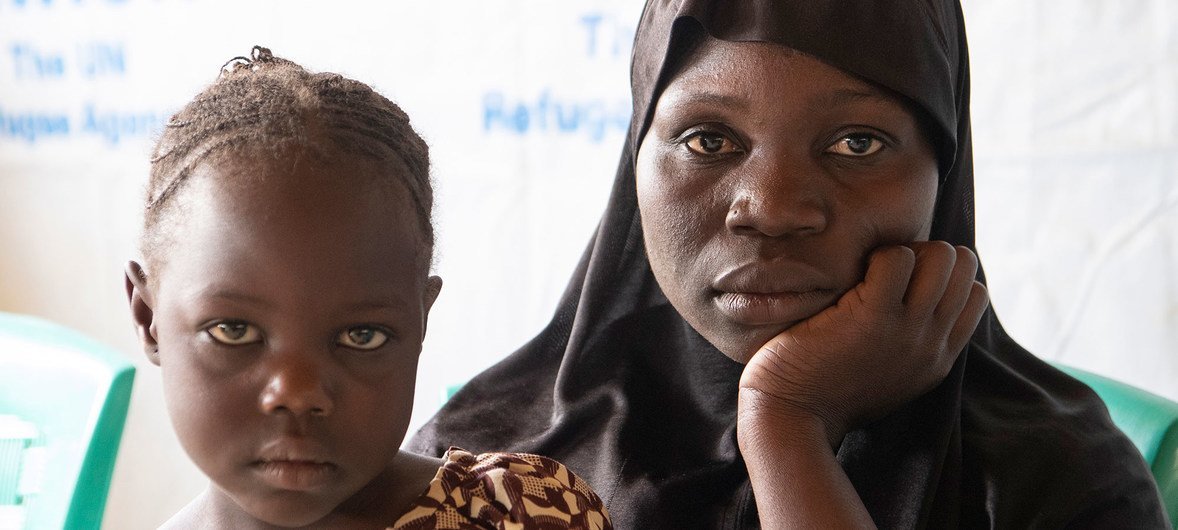 UN Photo/Eskinder DebebeFati Yahaya fled to Cameroon after escaping armed insurgents in Nigeria.Peace and Security
Secretary-General António Guterres has underscored UN solidarity with all victims of terrorism and urged people everywhere to ensure they are never forgotten.
His comments come in a message for the International Day of Remembrance of and Tribute to the Victims of Terrorism, this coming Friday, which has been observed since 2017.
"The impact of terrorism on victims can last a lifetime and reverberate across generations. Traumatic memories cannot be erased, but we can help victims and survivors by seeking truth, justice and reparation, amplifying their voices and upholding their human rights", he said.
Commemorating during a crisis
This year's commemoration occurs as countries continue to battle the COVID-19 pandemic.
There were more than 21.5 million cases worldwide as of Monday, and nearly 767,200 deaths, according to data from the World Health Organization (WHO).
As the UN chief observed, the crisis has changed how people are living and interacting, with many memorials and commemorations for the day either cancelled or moved online.
The UN has also been affected as the first-ever UN Global Congress of Victims of Terrorism has been postponed until next year.
Rebuilding and healing
"Remembering the victims of terrorism and doing more to support them is essential to help them rebuild their lives and heal", said the Secretary-General, who highlighted UN efforts to help parliamentarians and governments draft and adopt relevant legislation and national strategies.
"We must continue to support victims' associations in their invaluable work", he stressed.
"We must ensure that those who have suffered are always heard and never forgotten. The United Nations stands in solidarity with all victims of terrorism – today and every day."
8/18 –
Justice Department Files Lawsuit Against Tampa, Florida, Towing Company for Unlawfully Selling Car Belonging to Deployed Servicemember08/18/2020 12:00 AM EDT
The Justice Department today filed a lawsuit in the Middle District of Florida alleging that Target Recovery Towing Inc. and Target Recovery & Transport Inc. (together "Target") violated the Servicemembers Civil Relief Act (SCRA), by failing to obtain a court order before auctioning off a car belonging to a U.s. Marine Corps Sergeant who was deployed overseas.
Justice Department Files Lawsuit Against Father & Son Moving & Storage in Billerica, Massachusetts, for Unlawfully Auctioning Off Belongings of Deployed Servicemember08/18/2020 12:00 AM EDT
The Justice Department today filed a lawsuit in the District of Massachusetts alleging that PRTaylor Enterprises LLC, a company doing business as Father & Son Moving & Storage (Father & Son), violated the Servicemembers Civil Relief Act (SCRA) by failing to obtain a court order before auctioning off the entire contents of a U.S. Air Force Technical Sergeant's two storage units while he was deployed overseas.
United States Files False Claims Act Complaint Against Drug Maker Teva Pharmaceuticals Alleging Illegal Kickbacks08/18/2020 12:00 AM EDT
The United States has filed a False Claims Act complaint against Teva Pharmaceuticals USA Inc. and Teva Neuroscience Inc. (Teva), alleging that they illegally paid the Medicare co-pays for their multiple sclerosis (MS) product, Copaxone, through purportedly independent foundations that the companies used as conduits in violation of the Anti-Kickback Statute, the Department of Justice announced today.
---
---
---
---
CNBC POLITICS
EDITOR'S NOTE – Mike Calia
… Former first lady Michelle Obama, the night's main speaker, put a grim capstone on the proceedings. "If you think things cannot possibly get worse, trust me, they can," she said. "And they will if we don't make a change in this election." CNBC's Christina Wilkie and Tucker Higgins broke down Monday night's event here.
The action resumes Tuesday night, with speakers including Rep. Alexandria Ocasio-Cortez, former President Bill Clinton and Jill Biden. Wednesday will feature former Secretary of State Hillary Clinton, former President Barack Obama and vice presidential candidate Sen. Kamala Harris. Biden will deliver his speech on Thursday, the last night of the convention. …
---
The U.S. Department of Agriculture's (USDA) Animal and Plant Health Inspection Service (APHIS) is inviting public comment on a petition from the State University of New York College of Environmental Science and Forestry (ESF) seeking deregulation of an American chestnut variety developed using genetic engineering for fungal resistance to chestnut blight. The petition will be available for public review and comment for 60 days.
APHIS is interested in receiving comments regarding potential environmental and interrelated economic impacts to assist in our assessment of the petition as it relates to the National Environmental Policy Act. APHIS will thoroughly review and consider all public input submitted during the comment period, and use the information to develop the appropriate environmental documents and our regulatory determination.
The petition and Federal Register notice can be viewed on the News page of the BRS website. Beginning tomorrow, members of the public will be able to submit comments through October 19, 2020, at www.regulations.gov.
---
CDC / NATIONAL CENTER ON BIRTH DEFECTS AND DEVELOPMENTAL DISABILITIES
1 p.m. EST:
The use of multiple substances, including alcohol, opioids, and tobacco during pregnancy can have negative effects on a pregnant person and the developing baby. Research suggests that polysubstance use (using more than one substance at a time) during pregnancy is common. Recent evidence suggests that polysubstance use is highest during early pregnancy.
This session of Public Health Grand Rounds will discuss adverse maternal and child health outcomes caused by polysubstance use, how data can improve our understanding of polysubstance use, and how screening and brief interventions may reduce prenatal substance exposure and improve the health of women and infants.
There will be a live question and answer segment at the end of the session. Please submit questions for this topic to grandrounds@cdc.gov.
To learn more about the session, including information about the speakers, continuing education, and how to watch online, please visit the session page.
---

4:00 p.m. – 5:00 p.m. ET
Presenters:
Alice Bacherini, MA, University of Perugia (Italy)
Allison D'Aguilar, PhD, Virginia Commonwealth University
Jacqueline McGinley, PhD, LMSW, Binghamton University
Richard Chapman, University of Kansas
The Research Colloquium goes online! This year's Research Colloquium presenters will share a wide range of research inquiries, including Adaptive Behavior in Toddlers with Autism, the Health Communication Technology Needs, People with IDD in Community Residences, and Correlation between self-advocacy and self-determination. Please join us to learn their research findings and great work by the SECP members.
---
---
JOIN. LISTEN. LEARN. DIVERSITY, EQUITY AND INCLUSION SERIES: EXPLORING RACIAL EQUITY, ADVOCACY, AND SOCIAL JUSTICE IN AMERICAN AGRICULTURE.
6:00 PM EST
WEBINAR #3
Race, Tenure, and Resource Allocation at Land Grant Institutions
This webinar discusses historical racial disparities between 1862, 1890, and 1994 land-grant institutions as it relates to tenure, quality of programs, and resource allocation. This webinar will also address ongoing efforts to create more equitable opportunities through food and agricultural programs for historically marginalized groups.
---
---
News from SFP
How are we helping urban farmers? Years ago, we created the "Guide to Urban Farming in NY," which mirrors our guide for rural farming (look for the update coming soon). In 2019 we published "The Promise of Urban Agriculture," which summarizes the critical factors and specific recommendations to support the success of commercial urban farmers. We will now be turning these findings into online classes.
Last April, we started engaging community educators and urban farmers on how to grow, process and market specialty mushrooms, such as oysters, shiitake and lion's mane. While COVID-19 has propelled us to get creative with online teaching and learning, enthusiasm about growing mushrooms is catchy! Our research on production and economics of mushroom growing will help urban (and rural) farmers make better decisions.
Finally, we have started to develop new training materials and online classes for indoor farming, such as greenhouses and vertical farms. Some of these systems take a lot of investment, but others can be done for lower cost and as part of urban farms or community gardens (aka mushrooms!).
Our suite of online classes! Registration is now open for the upcoming season, and we even have a few new courses this year.
Register Now for Our Upcoming Online Course Season
Last year we moved our online courses to a new, more user-friendly platform.
While registration is open year-round, our next round of LIVE course instruction starts this fall. We are also adding new courses this year, to offer even more learning opportunities to start or advance your farm business. Registrants have permanent access to course content, and tiered pricing based on household size and income level makes access to the courses more equitable. Learn more and register.
---
---
Citizen Scientists Discover Dozens of New Cosmic Neighbors in NASA Data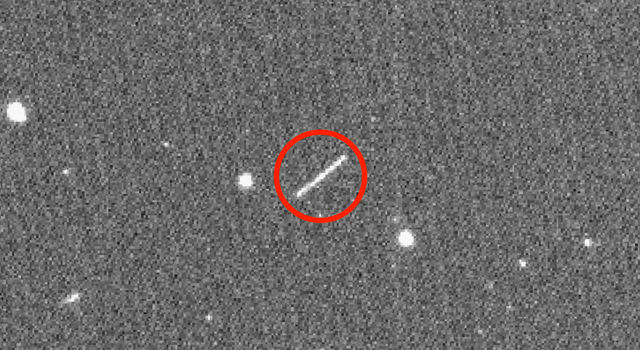 This illustration shows asteroid 2020 QG's trajectory bending during its close approach to Earth. The asteroid is the closest known nonimpacting asteroid ever detected. Credit: NASA/JPL-Caltech
› Larger view
An SUV-size space rock flew past our planet over the weekend and was detected by a NASA-funded asteroid survey as it departed.
Near Earth Asteroids, or NEAs, pass by our home planet all the time. But an SUV-size asteroid set the record this past weekend for coming closer to Earth than any other known NEA: It passed 1,830 miles (2,950 kilometers) above the southern Indian Ocean on Sunday, Aug. 16 at 12:08 a.m. EDT (Saturday, Aug. 15 at 9:08 p.m. PDT).
---
Mali: UN chief demands 'immediate and unconditional release' of President, cabinet members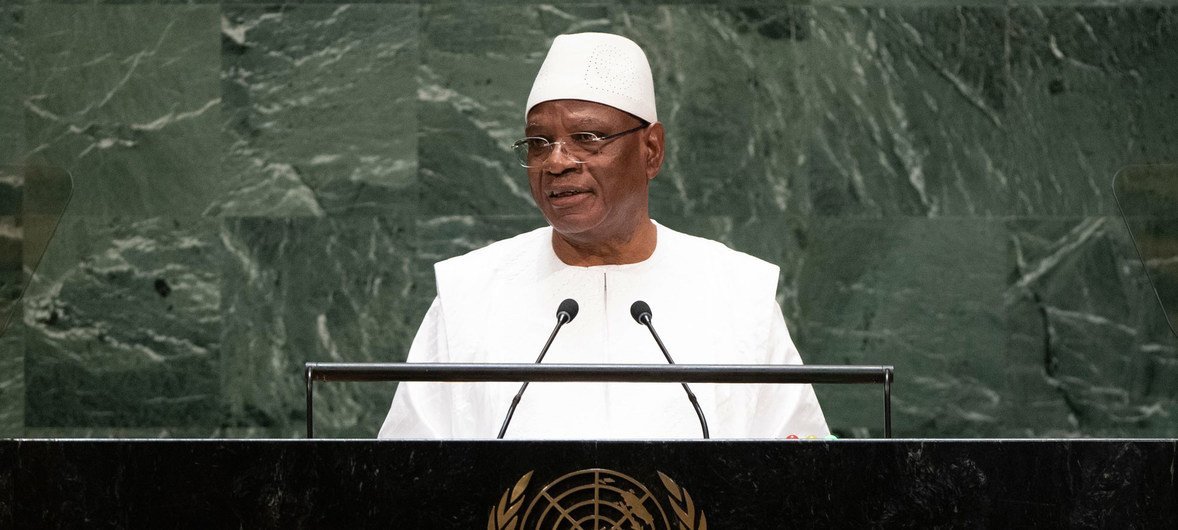 UN Photo/Kim HaughtonIbrahim Boubacar Keita, President of the Republic of Mali, addresses the general debate of the 74th session General Assembly (file photo).Peace and Security
UN Secretary-General Antonio Guterres has called for the immediate restoration of constitutional order and the rule of law in Mali, after mutinying troops arrested the country's leader and other senior officials on Tuesday.
Soldiers had initially staged a mutiny at a base near the capital, Bamako, before subsequently detaining President Ibrahim Boubacar Keïta and other members of his government, according to media reports.
"The Secretary-General strongly condemns these actions and calls for the immediate restoration of constitutional order and rule of law in Mali", his Spokesperson said in a statement.
"To this end, he demands the immediate and unconditional release of President Ibrahim Boubacar Keïta and members of his cabinet."
---
8/19 –
Founder and Chairman of a Multinational Investment Company and a Company Consultant Convicted of Bribery and Public Corruption are Sentenced to Prison08/19/2020 12:00 AM EDT
The founder and chairman of a multinational investment company and a company consultant were sentenced to prison today for orchestrating a bribery scheme involving independent expenditure accounts and improper campaign contributions.
Canadian National Charged with Alien Smuggling Conspiracy and Attempting to Bring Aliens to the United States08/19/2020 12:00 AM EDT
Cooperation efforts between United States and Turks and Caicos Islands law enforcement authorities culminated in today's extradition to the United States of a Canadian national who has been charged with alien smuggling offenses.
Two U.S. Citizens, One Pakistani National Charged with Moving U.S. Currency to Iran08/19/2020 12:00 AM EDT
A complaint was unsealed today, charging two U.S. citizens with federal crimes related to Iran. Muzzamil Zaidi, 36, a U.S. citizen who resides in Qom, Iran, was charged with acting in the United States as an agent of the government of Iran without first notifying the Attorney General. Zaidi, Asim Naqvi, 36, a U.S. citizen who lives in Houston, Texas, and Ali Chawla, 36, a Pakistani national who lives in Qom, Iran, were all charged with violations of the International Emergency Economic Powers Act. The complaint alleges that both charges stem from the defendants' campaign to transport U.S. currency from the United States to Iran on behalf of the Supreme Leader of Iran in 2018 and 2019. Both Zaidi and Naqvi were arrested in Houston yesterday, Aug. 18, 2020
Department of Justice Argues That Vermont's Barring Parochial Student from College Course Program Violates Constitution08/19/2020 12:00 AM EDT
The Department of Justice today filed a brief in the U.S. Court of Appeals for the Second Circuit supporting a parochial high school student and her parents and who claim that Vermont discriminated against them in violation of the Free Exercise Clause of the U.S. Constitution by excluding them from a state program paying tuition for high school students to take up to two college courses.
Former Chattanooga Police Officer Sentenced to 20 Years in Prison for Sexual Assault08/19/2020 12:00 AM EDT
Desmond Logan, 35, a former officer with the Chattanooga Police Department (CPD), was sentenced by the Honorable Curtis L. Collier, U.S. District Court Judge in the Eastern District of Tennessee at Chattanooga
Owner of Michigan Payroll Tax Services Firm Charged With Employment Tax Fraud08/19/2020 12:00 AM EDT
A federal grand jury in Detroit, Michigan, returned an indictment today charging a Farwell, Michigan, businessman with failing to pay payroll taxes to the Internal Revenue Service (IRS) and failing to file his own returns, announced Principal Deputy Assistant Attorney General Richard E. Zuckerman of the Justice Department's Tax Division and U.S. Attorney Matthew Schneider for the Eastern District of Michigan.
Former Bureau of Prisons Corrections Officer Sentenced for Sexually Assaulting Two Women on Multiple Occasions and Lying to Investigators08/19/2020 12:00 AM EDT
Adrian L. Stargell, 39, a former Bureau of Prisons (BOP) Corrections Officer who worked as an Education Specialist at the FCI-Aliceville facility in Aliceville, Alabama, was sentenced today in federal court in Tuscaloosa, Alabama to 42 months in prison and three years supervised release.
Iranian National and U.A.E. Business Organization Charged with Criminal Conspiracy to Violate Iranian Sanctions08/19/2020 12:00 AM EDT
Amin Mahdavi, 53, an Iranian national living in the United Arab Emirates (UAE), and Parthia Cargo LLC, a freight forwarding company located in the UAE, were charged in the U.S. District Court for the District of Columbia with participating in a criminal conspiracy to violate U.S. export laws and sanctions against Iran.
Attorney General Barr Delivers Opening Remarks at Press Conference Announcing Updates to Operation Legend08/19/2020 12:00 AM EDT
The Bank of Nova Scotia Agrees To Pay $60.4 Million in Connection with Commodities Price Manipulation Scheme08/19/2020 12:00 AM EDT
The Bank of Nova Scotia (Scotiabank), a Toronto, Canada-based global banking and financial services firm, has entered into a resolution with the Department of Justice to resolve criminal charges related to a price manipulation scheme involving thousands of episodes of unlawful trading activity by four traders in the precious metals futures contracts markets.
Attorney General Barr Delivers Opening Remarks at Press Conference Announcing Updates to Operation Legend08/19/2020 12:00 AM EDT
Attorney General William P. Barr Announces Updates on Operation Legend at Press Conference in Kansas City, Missouri08/19/2020 12:00 AM EDT
At a press conference in Kansas City, Missouri, today, Attorney General William P. Barr announced updates on Operation Legend.
---
---
---
---
---
is the activities surrounding mechanical flight and the aircraft industry. Aircraft includes fixed-wing and rotary-wing types, morphable wings, wing-less lifting bodies, as well as lighter-than-air craft such as hot air balloons and airships.
Aviation began in the 18th century with the development of the hot air balloon, an apparatus capable of atmospheric displacement through buoyancy. Some of the most significant advancements in aviation technology came with the controlled gliding flying of Otto Lilienthal in 1896; then a large step in significance came with the construction of the first powered airplane by the Wright brothers in the early 1900s. Since that time, aviation has been technologically revolutionized by the introduction of the jet which permitted a major form of transport throughout the world.
The word aviation was coined by the French writer and former naval officer Gabriel La Landelle in 1863. He derived the term from the verb avier (an unsuccessful neologism for "to fly"), itself derived from the Latin word avis ("bird") and the suffix -ation.
---
Historically Black Colleges and Universities have a high success rate of graduating their students — 8.5% of Black undergraduate students attend HBCUs, yet almost 18% of the Black STEM bachelor's degrees are awarded from HBCUs. Of the top eight institutions that graduate Black undergraduate students who ultimately go on to earn doctorates, seven are HBCUs — one-third of all Black students who have earned doctorates graduated with bachelor's degrees from HBCUs.
To study and model the successful practices of HBCUs, the U.S. National Science Foundation is establishing the HBCU STEM Undergraduate Success Research Center (STEM-US), with the aim of applying these practices broadly in higher education. Data collected will help explain how the educational advocacy and social support provided by HBCUs consistently produce a greater sense of well-being, higher percentages of STEM graduates and, ultimately, STEM doctorates.
---
US CENSUS BUREAU WEBINAR
Providing Perspective During COVID-19 Using Census Data
Time: 1:30 – 2:30 p.m. (EST)
Dial-in: 1-888-790-3251
Participant Passcode: 3468326
Event password, if requested: census
 *This password may be requested when using mobile devices.WEBEX LOGIN
---
---
Tallulah Willis on Using Her Growing Fashion Line to Advocate for Mental Health Charities
BY LIAM HESS
---
---
Law Roach and Supima Are Searching for Fashion's Next Big Thing
---
---
UN salutes real-life heroes doing 'extraordinary things, in extraordinary times'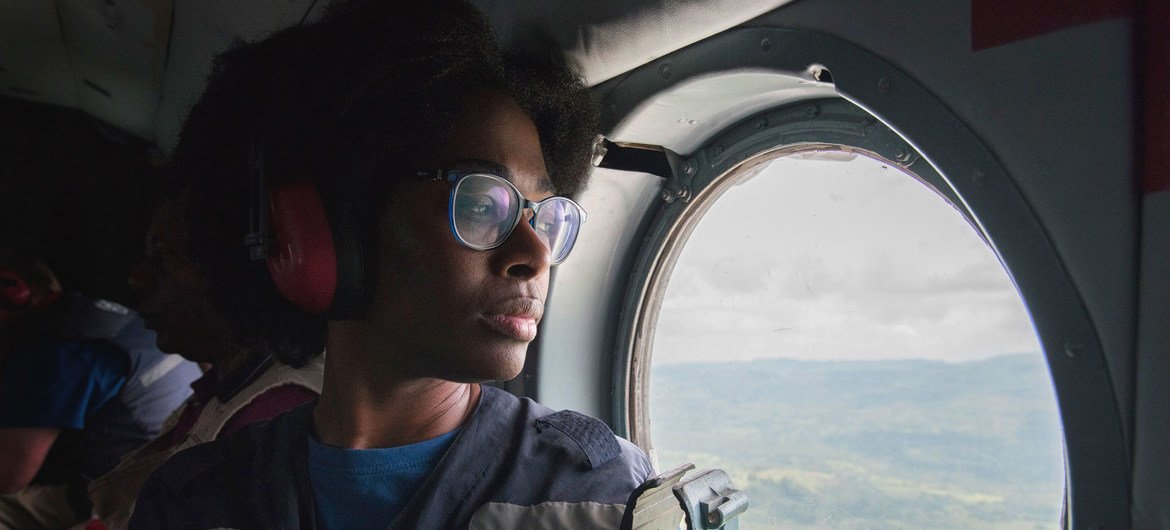 WHO/Lindsay MackenzieMarie-Roseline Darnycka Bélizaire, an epidemiologiist with the World Health Organisation team tackling the Ebola outbreak in the Democratic Republic of the Congo, travels by helicopter to Butembo in the east of the country.Humanitarian Aid
Marking World Humanitarian Day, top UN officials are honouring the workers overcoming "huge challenges" to save and improve the lives of millions of women, men and children, hit hard by crises and the COVID-19 pandemic.
UN Secretary-General António Guterres urged everyone to applaud and support the humanitarians, health workers and first responders working selflessly amid unprecedented need, in a message on World Humanitarian Day.
---
8/20 –
Indiana Man Pleads Guilty to Distributing Pesticides08/20/2020 12:00 AM EDT
An Indiana man who distributed unregistered pesticides to the tenants and managers of an apartment building he owned has pleaded guilty to three counts of violating the Federal Insecticide, Fungicide, and Rodenticide Act (FIFRA).
Texas Rapper Charged in Narcotics and Prescription Opioid Conspiracy08/20/2020 12:00 AM EDT
Authorities have taken nine people into custody on charges involving the distribution of meth, cocaine and/or oxycodone and hydrocodone, announced Acting Assistant Attorney General Brian C. Rabbitt of the Justice Department's Criminal Division and U.S. Attorney Ryan K. Patrick for the Southern District of Texas.
Assistant Attorney General Makan Delrahim Announces Re-Organization of the Antitrust Division's Civil Enforcement Program08/20/2020 12:00 AM EDT
The Department of Justice's Antitrust Division announced today that it is creating the Office of Decree Enforcement and Compliance and a Civil Conduct Task Force. Additionally, it will redistribute matters among its six civil sections in order to build expertise based on current trends in the economy.
South Carolina Couple Pleaded Guilty to Scheme Involving Conspiracy and False Statements to Illegally Obtain a U.S. Passport08/20/2020 12:00 AM EDT
A Huger, South Carolina couple pleaded guilty today in South Carolina before the U.S. District Judge Brucie H. Hendricks in the District of South Carolina to charges stemming from their conspiracy to obtain a U.S. passport by falsely claiming they were the biological parents of a baby born in the Philippines and by using false birth records to apply for a U.S. passport for the baby.
Justice Department Settles with Gates Chili Central School District to Ensure Equal Access for Students with Service Animals08/20/2020 12:00 AM EDT
The Justice Department announced today that it reached an agreement with the Gates Chili Central School District in Rochester, New York, to resolve the department's lawsuit alleging disability discrimination in violation of the Americans with Disabilities Act (ADA)
Puerto Rico Legislator and Two Capitol Employees Indicted for Theft and Bribery08/20/2020 12:00 AM EDT
On Wednesday, a federal grand jury in the District of Puerto Rico returned an eight-count indictment against legislator Nelson Del Valle Colon (Del Valle), a member of the Puerto Rico House of Representatives, as well as two of his employees, Nickolle Santos-Estrada (Santos) and her mother Mildred Estrada-Rojas (Estrada), for their alleged participation in a multi-year theft, bribery, and kickback conspiracy.
---
---
---
"… Joe feels the grief of every family that's lost loved ones to this pandemic. He understands the pain of the mothers and fathers who have to tell their children that they've lost their jobs. But most importantly, he knows where to take us from here – how to use the power of the presidency to address our nation's great challenges head-on, and to build back better.
Perhaps most importantly, Joe understands that when times get tough, we don't give up — we get up. And so it's time for us all to get up, right now, and stand with Joe in this fight for the soul of America. …"
---
---
Condé Nast Spotlight
VOGUEWhat Kamala Harris Wore When She Accepted the Democratic Vice President Nomination
THE NEW YORKERObama, Harris, and an Unconventional Convention
So far, the Democrats have largely succeeded in creating a new and effective form of Convention, with nightly critiques of a calamitous Presidency and emotional appeals to the country's better angels.
VANITY FAIRAnother Four Years of Trump Could Be the Death of Democracy, Obama Warns
On Night 3 of the DNC, the former president highlighted Trump's first-term failures and the danger of reelection. "We have a president who turns our tragedies into political weapons," said Kamala Harris.
GLAMOURKamala Harris Called Out Trump's 'Failure of Leadership' in Her Historic DNC Speech
PITCHFORKWatch Billie Eilish Perform "my future" at 2020 Democratic National Convention
ALLUREDolphins Inspired This Trendy, New Dewy Highlighter Look
THEM.HRC Deletes Tweet Praising Lori Lightfoot, Chicago's Embattled Lesbian Mayor
Spotlight: Racism in America
PITCHFORKBillie Eilish, Meek Mill, Big Thief, More Sign Open Letter Calling for Police Reform
ARCHITECTURAL DIGESTWhat Does American Police Reform Actually Look Like?
VANITY FAIRLeBron James Turned a MAGA Hat Into a Call for Justice
THE NEW YORKERAfter Two Nights, the Virtual Democratic National Convention Is Winning
Spotlight: The Latest on The Coronavirus
SELFWhy This New COVID-19 Saliva Test Could Be a Game Changer
CONDÉ NAST TRAVELERU.S. Airport Screening of COVID-19 Remains Inconsistent
BON APPÉTITThe 10-Year-Old Businessman Behind Philly's Favorite Lemonade
VANITY FAIRTrump's School Reopening Push Is Looking More and More Idiotic
Popular Stories
WIREDA New Study Suggests a Possible Disease Vector: Germy Dust
Since the pandemic's beginning, scientists have argued over how respiratory viruses can spread. Now an experiment with guinea pigs and influenza is adding a new wrinkle.
VANITY FAIRTrump Is Having a Full-Blown Temper Tantrum Over Michelle Obama
The former first lady struck a nerve with the president in a speech that nailed him not as an evil genius, but an inadequate fraud.
PITCHFORKWhat Michael Imperioli Is Listening to Right Now
The Emmy-winning Sopranos star muses on his love of vintage New York punk, the majesty of ANOHNI, and more.
SELFFrozen Chicken Wings Tested Positive for Coronavirus—Should You Care?
Is nothing sacred?click
VOGUEWhere to Buy Face Masks That Are Stylish Online
THE NEW YORKERJoe Biden, Alexandria Ocasio-Cortez, and the Shaky Unity of the Democratic National Convention
The Democrats are still (relative to Republicans) the party of the future, but their vision now belongs to leaders far younger than their Presidential nominee.click
GLAMOURKaia Gerber Dyed Her Own Hair Pink at Home
Which one will you copy?
CONDÉ NAST TRAVELERWinery Camping in the U.S.: 7 Farms That Will Let You Camp on Their Grounds
At these lesser-known locations, camping comes with wine tastings, farm animals, and more.
TEEN VOGUEBTS "Dynamite" MV Teaser Has Disco "Boy With Luv" Energy
!!!!!!!!!!!!!EPICURIOUSNow Is Not the Time for Handwash-Only Kitchenware
Le Creuset, I love you—but we're on a break.click
GQ31 Massive Menswear Deals from the Nordstrom Anniversary Sale
BON APPÉTIT37 Recipes That Prove Cooking Fish Doesn't Have to Be Scary
Shake up your seafood routine.
ALLUREOur Average Life Expectancy Could Increase to 115 Years Very Soon
The more scientists learn about how we age, the more likely they are to recalibrate the clock. But that poses another question: Should they?
ARCHITECTURAL DIGESTKaty Perry Shows Off Her Baby Daughter's Nursery
The pregnant singer revealed the space during a livestream from the Hidden Hills, California, home she shares with her fiancé, Orlando Bloom
THEM.Two Trans Activists Reportedly Misgendered, Humiliated By Police Following Arrest
"The way they dehumanized my experience as a woman was horrifying."
WIREDRetro Gaming's Misogyny Is Brought to Light After Tragedy
A retro game champion is suspected of killing an ex-girlfriend and then himself. Gamers now say they warned others about his threatening behavior for years.
VANITY FAIR"Journalists Will Not Be Center Stage": As Political Conventions Go Virtual, the Party's Over for the Press
The quadrennial circus is a rite of passage for journalists—and an ego trip. They "feel like they're narrating history," says one. Still, Michelle Obama's headline-grabbing speech showed the news doesn't stop just because CNN Grill is closed.
PITCHFORKWatch the First Trailer for Sofia Coppola's New Movie On the Rocks, Starring Rashida Jones and Bill Murray
The film arrives on AppleTV+ this October
SELFAlex Trebek's First Pancreatic Cancer Symptom Was Visible to Others
His wife noticed something was off.
VOGUEWhy Prince Harry and Meghan Markle Chose to Live in Montecito, California
---
---
---
NEW YORK: Find a Food Scraps Drop-Off Spot or Residential Organics Collection Service Near You
Residential food scraps collection services and community food scraps drop-off spots are popping up across the state. Both are a great way to compost your food scraps locally if you can't at home. Residential food scraps collection services collect food scraps at your curb while community food scraps drop-off spots allow you to drop your food scraps off at a designated location and time, such as your local farmers market or community garden. In return, the compost from these programs is used to build local healthy soils. Find a food scraps drop-off spot or residential food scraps collection service near you.
You can Learn more about developing a food scraps drop off spot in your community from a recently recorded webinar hosted during the 2020 Virtual NYS Organics Summit.
---
Using surveillance to determine the number of individuals with sickle cell disease in California and Georgia, 2005–2016.
The Sickle Cell Data Collection (SCDC) programs in California and Georgia ascertained individual-level health and mortality data on individuals with SCD through linkage of multiple population-based data sources. This report presents findings from SCDC on the birth prevalence and number of individuals with SCD in California and Georgia. Read the article to learn more.
---
CDC
2-3 p.m. EST
Influenza Vaccination Recommendations and Clinical Guidance during the COVID-19 Pandemic
---
Study: 2019 Sees Record Loss of Greenland Ice
After a brief period of moderate ice loss, the Greenland ice sheet melted in 2019 at the fastest rate ever measured.
Greenland set a new record for ice loss in 2019, shedding the most mass from its giant ice sheet in any year since at least 1948.
The large loss – 532 billion tons -is a stark reversal of the more moderate rate of melt seen in the previous two years. And it exceeds Greenland's previous record of 464 billion tons, set in 2012. The record melt will likely raise average global sea level by 1.5 millimeters. Using a hypothetical comparison, all the water combined would cover the entire state of California in more than 4 feet (1.2 meters) of water.
The findings were published Aug. 20 in the journal Communications Earth & Environment.
"What I found interesting is such a high variability in the rate of loss for the Greenland Ice Sheet," said Alex Gardner, a researcher at NASA's Jet Propulsion Laboratory in Southern California and a coauthor of the study. "The years 2017 and 2018 were relatively mild after a decade of record losses, then 2019 came back to set a new record."
---
The von Kármán Lecture Series: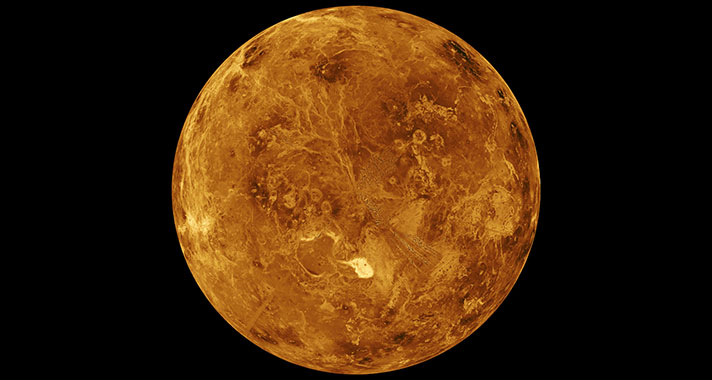 Venus: Earth's Evil Twin or Just Misunderstood?
Time: 7 p.m. PDT (10 p.m. EDT; 0200 UTC)
Venus is becoming more attractive to scientists as technology improves for sending spacecraft to survive orbit and even descend to the surface. From orbiters to balloons, we will talk about the great science that can be done, how we can do it and what we hope to learn.
Host:
Brian White
Speaker(s):
Sue Smrekar, Rocky Planet Geoscientist
Webcast:
› Click here to watch the event live on YouTube
› Click here to watch the event live on Ustream
---
---
8/21 –
Minnesota Man Charged with COVID-Relief Fraud and Money Laundering08/21/2020 12:00 AM EDT
A Minnesota man was charged in an indictment unsealed today for allegedly fraudulently obtaining approximately $841,000 from the Paycheck Protection Program (PPP).
Former Army Special Forces Officer Charged in Russian Espionage Conspiracy08/21/2020 12:00 AM EDT
A Gainesville, Virginia, man was arrested today for conspiring with Russian intelligence operatives to provide them with United States national defense information.
Assistant Attorney General Makan Delrahim Delivers Remarks At The Rock Center For Corporate Governance At Stanford University08/20/2020 12:00 AM EDT
Thank you, Michael, for that kind introduction. I appreciate the opportunity to "come back" to Stanford University and the Rock Center for Corporate Governance. Today is bittersweet. I can't help but recall fondly the last time I spoke at Stanford a mere six months ago. I would have enjoyed traveling to my home state of California to be together in person today. Under the circumstances, we are conducting today's event by Zoom and, remotely, I am wishing everyone health, happiness…and childcare. That last wish, of course, is for those of you like me, who have young children testing the bounds of virtual camp, learning, and cabin fever.
North Carolina Risk Consultant Pleads Guilty to Tax Fraud and Illegally Possessing a Firearm08/21/2020 12:00 AM EDT
A Chapel Hill, N.C., businessman pleaded guilty today to filing a false tax return and being a felon in possession of a firearm, announced Principal Deputy Assistant Attorney General Richard E. Zuckerman of the Justice Department's Tax Division and U.S. Attorney Matthew G.T. Martin for the Middle District of North Carolina.
Assistant Attorney General Beth A. Williams Commends the Administrative Office of the U.S. Courts for New Website Enhancing Access to Justice08/21/2020 12:00 AM EDT
Assistant Attorney General Beth A. Williams issued the following statement today on the efforts by the Administrative Office of the U.S. Courts to enhance public and litigant access to electronic court records. This year, as part of its access to justice efforts, the Office of Legal Policy at the Department of Justice partnered with the Administrative Office of the U.S. Courts to improve transparency regarding fee exemptions for access to court records in the Public Access to Court Electronic Records (PACER) system. As part of that partnership, the Administrative Office of the U.S. Courts announced an enhanced PACER website that makes it easier for indigent individuals, as well as pro bono attorneys, academic researchers, and non-profit organizations, to understand how they may access court records for free.
---
---
---
---
The Weekend Crossword
A lightly challenging puzzle.
By Caitlin Reid
---
Notify NYC: When home isn't safe, domestic violence survivors can find services 24/7 at nyc.gov/NYCHOPE, 1-800-621-4673 or 911 for emergencies.
---
Megan Thee Stallion Says Tory Lanez Is the Person Who Shot Her
"Stop lying. Why lie? I don't understand."
Violence against women is never ok. Protecting your attacker(s) is also not ok, particularly when protecting the victim(s) is the goal.

Tweet
---
---
Launching a new academic year under the cloud of COVID-19The next few weeks mark the beginning of the school year across the northern hemisphere. Safety of students and teachers vis-à-vis COVID-19 spread is top priority. Learn how countries are planning for the reopening of schools. This is what they had to say.
Violence amid the pandemic: The COVID-19 pandemic has put a spotlight on some of the biggest cracks in societies worldwide. While many governments are still grappling with surging cases, violence is fueling the crisis in some of the world's most fragile environments.
Killer # 2: Millions of women and children may die or endure lifelong health impacts because of disruptions to essential health services and the reluctance by patients to seek care for fear of COVID-19 infection. A recent analysis examined the effects of service disruptions. The results are overwhelming.
Power of digital ID: As countries focus on "building back better" after the pandemic, they have a crucial opportunity to leapfrog to a more digital economy – and to do so responsibly. Whichever model they choose, governments can transform the lives of people everywhere by building digital ID systems designed to maximize privacy, inclusion, and trust. .
Bringing renewable, off-grid energy to communities in AfricaAfrica is engaged in an exciting energy transformation, country by country, across the continent. Through the Lighting Africa program, 32 million Africans gained access to energy, often through off-grid products that charge with batteries at home. 
Here's what could help lift rural Hondurans out of povertyIn Honduras, increased labor incomes have been central to reducing poverty. We analyzed households' labor intensity and their diversification across types of jobs. We reached four conclusions that could help policymakers address rural poverty in Honduras.
Building back better means designing cash transfers for women's empowerment"At least 200 countries and territories have expanded or introduced social protection measures in response to COVID-19, reaching almost 1 billion new beneficiaries since March. Many are leveraging mobile money platforms to distribute emergency cash assistance to poor households safely and rapidly. Yet, low-income women who live in remote areas with limited connectivity, or who have low digital literacy, are less likely to access these benefits."—Greta L. Bull, Caren Grown, Boutheina Guermazi, Michal Rutkowski and Mahesh Uttamchandani – August 19
Upcoming: Fragility Forum 2020 | Investing in Justice for All to Prevent Violence and ConflictThe Fragility Forum 2020 Seminar Series is a virtual and interactive series of events organized by the World Bank to share practical solutions and explore innovative ways of responding to the most challenging FCV issues of our times.
Women Entrepreneurs Finance Initiative Invests In Over 15,000 Women-Led Businesses Amidst COVID-19 CrisisIndia Needs to Maintain Reform Momentum to Reverse Current Economic Slowdown: World Bank .
How can we build a #foodsystem that reduces #hunger & delivers a healthy economy, people & planet post-#COVID19?
How will the #COVID19 pandemic affect #trade and Global Value Chains (#GVCs)? Find out in our Online Course on GVCs and earn a World Bank certificate. #OpenLearningCampus #MOOC #LearnFromHome #WDR2020
Data ChartThe world has 10 years left to meet the SDG7 goal of ensuring access to affordable, reliable, sustainable and modern energy for all. Navigate data in 3D to see global progress and where growth in electricity access is needed the most.
---
NASA-led Study Reveals the Causes of Sea Level Rise Since 1900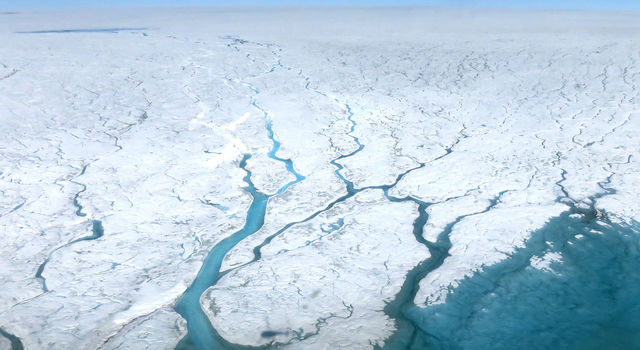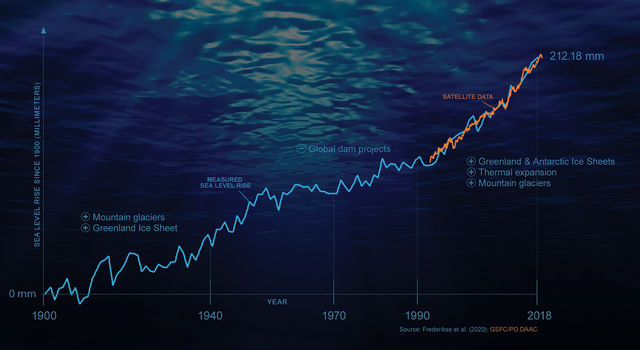 This aerial photograph shows fast-moving meltwater rivers flowing across the Greenland Ice Sheet, a region that, combined with Antarctic meltwater and thermal expansion, accounts for two-thirds of observed global mean sea level rise. Credit: NASA
› Larger view
Scientists have gained new insights into the processes that have driven ocean level variations for over a century, helping us prepare for the rising seas of the future.
To make better predictions about the future impacts of sea level rise, new techniques are being developed to fill gaps in the historic record of sea level measurements. We know the factors that play a role in sea level rise: Melting glaciers and ice sheets add water to the seas, and warmer temperatures cause water to expand. Other factors are known to slow the rise, such as dams impounding water on the land, stymying its flow into the sea.
When each factor is added together, this estimate should match the sea level that scientists observe. Until now, however, the sea level "budget" has fallen short of the observed sea level rise, leading scientists to question why the budget wouldn't balance.
Follow NASA's Perseverance Rover in Real Time on Its Way to Mars
A crisply rendered web application can show you where the agency's Mars 2020 mission is right now as it makes its way to the Red Planet for a Feb. 18, 2021, landing.
› Read the full story
---
Traumas of terrorism cannot be erased, but victims' voices must never be forgotten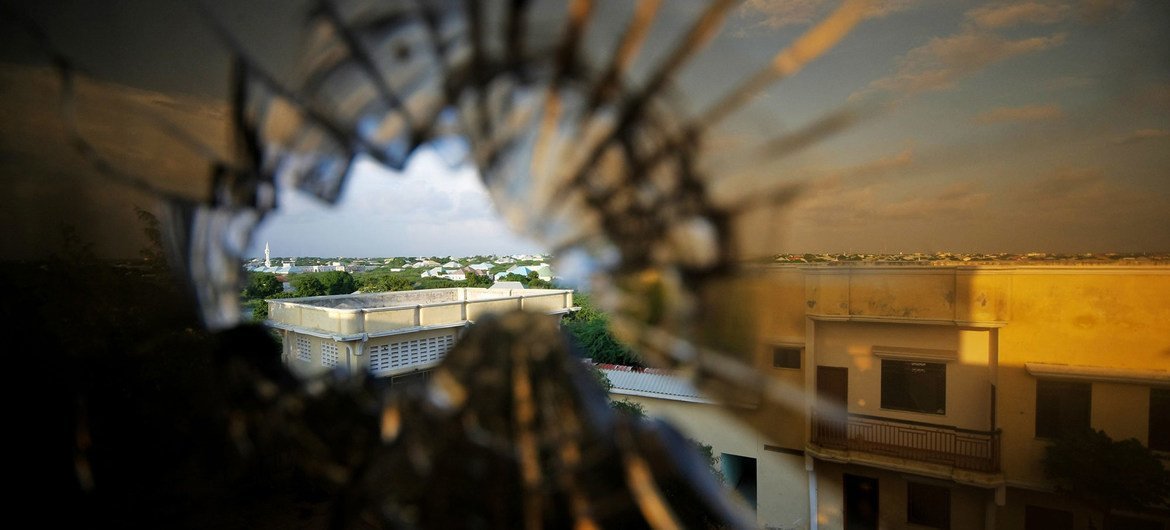 UN Photo/Stuart PriceThe skyline beyond the northern suburbs of Mogadishu is seen through a bullet hole in the window of a hotel in Somalia.Peace and Security
The impact of terrorism on victims can "last a lifetime and reverberate across generations", the UN chief said on Friday during a virtual commemoration for International Day of Remembrance of and Tribute to the Victims of Terrorism.
8/22 –
---
---
---
NASA JPL VIRTUAL EVENT FOR EDUCATORS
10-11:30 A.M. PDT (1-2:30 P.M. EDT)
Workshop: Back to School STEM for Remote Instruction
Audience: Teachers for grades 2-12
Location: Online – Webex link will be provided to registered participants
Overview: In this interactive virtual workshop, we will discuss NASA resources, lessons and strategies for remote STEM instruction. Participants will have a chance to join the conversation and share their own strategies and expertise with the group. Participation is limited and available on a first-come, first-served basis. Registration is required.
› Register to attend
› Explore education resources
---
8/23 –
---
---
NYT SUNDAY
Try Spelling BeePuzzle throughout the day to see how many words you can find.
The Crossword, Solve the daily puzzle edited by Will Shortz, or try out other games like the Mini and Letter Boxed.
Try Tiles, a soothing matching game that may help you de-stress.
---

G.O.P. Rushes to Finalize Convention, With Help From 'Apprentice' Producers
Republicans are working to finalize a week's worth of events that can match the production put on for the Democratic nominee, Joe Biden.The party is promising something closer to a regular convention, with a focus on live onstage moments featuring President Trump, who will be speaking every night.
In Year of Virtual Politics, Republican Delegates Flock to Charlotte
It's not the convention people will see on television next week. But Republicans are staging a truncated gathering in Charlotte to renominate President Trump.
In Recordings, President's Sister Calls Him a Liar With 'No Principles'In a series of recordings published by The Washington Post, Maryanne Trump Barry can be heard disparaging her brother's performance as president.
Outdoor Dining Is a Hit, but Restaurants Face 'Apocalyptic' TimesNearly 10,000 restaurants have set up outdoor seating in New York City. They are struggling to stay alive until indoor dining returns.
In China, Where the Pandemic Began, Life Is Starting to Look … NormalMarkets, bars and restaurants are crowded again. Local transmissions are near zero. But are people letting their guard down too soon?
Tropical Storms Add to Pandemic's ThreatPeople in the Caribbean and parts of the U.S. were urged to heed pandemic warnings while making emergency preparations for Tropical Storms Marco and Laura. Here's the latest.
How U.S. Policy Turned the Sonoran Desert Into a Graveyard for MigrantsRoberto Primero Luis set out across the U.S.-Mexico border last year as previous Guatemalan migrants had. But the crossing has changed.
Threatened by Facebook Disinformation, a Monk Flees CambodiaA smear campaign linked to the Cambodian government went viral, sending an activist Buddhist cleric into exile to protect himself.Adam Dean for The New York Times
The sounds of New York City. And more.
Listen to 'Nice White Parents'?Is this a blueprint for real, systemic change?
Listen to 'The Sunday Read'Sweatpants forever.
How to Reverse Course on Trump's Environmental Damage
The next president can undo some of the recent efforts to weaken environmental protections. But it'll take work.
The Coronavirus Generation:The virus doesn't sicken kids as much as adults, but it can still destroy their futures.
Joe's Fearsome Weapon Against Trump: Simple Decency
The Office Will Never Be the Same
The pandemic has led to a revolution that many workers have been envisioning for years: giving people control over where and when work gets done.
Paris St.-Germain brought in the Brazilian forward to win games like Sunday's Champions…
---
🎁 HAPPY BIRTHDAY 🎂
KOBE BRYANT 🎉
🌍
8/24 –
Federal Court Permanently Shuts Down Texas Tax Return Preparer08/24/2020 12:00 AM EDT
A federal court permanently enjoined Siza Mhlanga, d/b/a Tax Refund Express, Camp Bowie Tax, Camp Bowie Tax Services, Tax Refund Company, and United Tax Refunds, of Fort Worth, Texas, from owning or operating a tax return preparation business and preparing tax returns for others, the Justice Department announced today. Mhlanga consented to the relief.
Philadelphia Return Preparer Sentenced to Five Years in Prison for Tax Fraud08/24/2020 12:00 AM EDT
A Philadelphia, Pa, tax return preparer was sentenced to 60 months in prison today for conspiring to defraud the United States, preparing false client tax returns, wire fraud, and identity theft, announced Principal Deputy Assistant Attorney General Richard E. Zuckerman of the Justice Department's Tax Division and U.S. Attorney William M. McSwain for the Eastern District of Pennsylvania.
DUSA Pharmaceuticals To Pay U.S. $20.75 Million To Settle False Claims Act Allegations Relating To Promotion Of Unsupported Drug Administration Process08/24/2020 12:00 AM EDT
Massachusetts-based DUSA Pharmaceuticals, Inc. (DUSA), a subsidiary of Sun Pharmaceutical Industries, Inc. (Sun Pharma), has agreed to pay the United States $20.75 million to resolve allegations that DUSA caused physicians to submit false claims to Medicare and the Federal Employee Health Benefit Program by knowingly promoting an administration process for the drug Levulan Kerastick that contradicted the product instructions approved by the U.S. Food and Drug Administration (FDA) and was unsupported by sufficient clinical evidence.
NASA Researcher Arrested for False Statements and Wire Fraud in Relation to China's Talents Program08/24/2020 12:00 AM EDT
A criminal complaint has been unsealed today, charging Zhengdong Cheng, 53, of College Station, Texas, for conspiracy, making false statements and wire fraud.
---
---
---
---
---
consists of the gastrointestinal tract plus the accessory organs of digestion (the tongue, salivary glands, pancreas, liver, and gallbladder). Digestion involves the breakdown of food into smaller and smaller components, until they can be absorbed and assimilated into the body. The process of digestion has three stages. The first stage is the cephalic phase of digestion which begins with gastric secretions in response to the sight and smell of food. This stage includes the mechanical breakdown of food by chewing, and the chemical breakdown by digestive enzymes, that takes place in the mouth.
Saliva contains digestive enzymes called amylase, and lingual lipase, secreted by the salivary glands and serous glands on the tongue. The enzymes start to break down the food in the mouth. Chewing, in which the food is mixed with saliva, begins the mechanical process of digestion. This produces a bolus which can be swallowed down the esophagus to enter the stomach. In the stomach the gastric phase of digestion takes place. The food is further broken down by mixing with gastric acid until it passes into the duodenum, in the third intestinal phase of digestion, where it is mixed with a number of enzymes produced by the pancreas. Digestion is helped by the chewing of food carried out by the muscles of mastication, the tongue, and the teeth, and also by the contractions of peristalsis, and segmentation. Gastric acid, and the production of mucus in the stomach, are essential for the continuation of digestion.
Peristalsis is the rhythmic contraction of muscles that begins in the esophagus and continues along the wall of the stomach and the rest of the gastrointestinal tract. This initially results in the production of chyme which when fully broken down in the small intestine is absorbed as chyle into the lymphatic system. Most of the digestion of food takes place in the small intestine. Water and some minerals are reabsorbed back into the blood in the colon of the large intestine. The waste products of digestion (feces) are defecated from the anus via the rectum. …CONTINUE READING
---
Delivering More Than Food: Understanding and Operationalizing Racial Equity in Food Hubs
2:30 to 3:30 pm (EDT)
Registration is required for this webinar:
Webinar Summary
Food hubs are often perceived as addressing injustices in U.S. food systems, particularly by increasing economic power of small- and mid-size producers and bolstering local and regional supply chains. Many food hubs report having a social mission. Although there has been a national food hub survey every two years since 2013, the survey has not shed light on the extent to which racial equity is an institutionalized priority in food hub work.
The webinar will share results from a qualitative study led by a diverse group of food system practitioners as to how U.S. based food hubs understand and operationalize engagement in racial equity work. We will share examples of how food hubs operationalize equity within their business, and with their partners, and with the community they serve. Authors and food hub leader discussants will also offer perspectives on the deeper questions that must be addressed to meaningfully support equity across the food system.
This webinar is sponsored by the MSU Center for Regional Food Systems in association with the Racial Equity in the Food Systems Workgroup. Funding for the Racial Equity in the System workgroup is provided in part by the W.K. Kellogg Foundation. The report upon which the webinar is based.
---
UN NEWS: So far, 172 countries are engaging with the COVAX Global Vaccines Facility, which aims to deliver two billion doses by the end of next year, WHO chief Tedros Adhanom Ghebreyesus told journalists.
8/25 –
Seventh Generic Drug Manufacturer Is Charged In Ongoing Criminal Antitrust Investigation08/25/2020 12:00 AM EDT
Teva Pharmaceuticals USA Inc. (Teva) has been charged with conspiring to fix prices, rig bids, and allocate customers for generic drugs, the Department of Justice announced today.
Defendants in Pensacola Dog Fighting Prosecution Sentenced to Prison08/25/2020 12:00 AM EDT
The last of four defendants to be convicted for their roles in a dog fighting conspiracy was sentenced today in federal court in Pensacola, Florida.
North Carolina Man Charged with COVID-19 Relief Fraud08/25/2020 12:00 AM EDT
A North Carolina man was charged by criminal complaint unsealed today for fraudulently seeking more than $414,000 in COVID-19 relief guaranteed by the Small Business Administration (SBA) through the Economic Injury Disaster Loan (EIDL) program and the Paycheck Protection Program (PPP) under the Coronavirus Aid, Relief and Economic Security (CARES) Act.
Russian National Arrested for Conspiracy to Introduce Malware into a Nevada Company's Computer Network08/25/2020 12:00 AM EDT
A Russian national made his initial appearance in federal court Monday for his role in a conspiracy to recruit an employee of a company to introduce malicious software into the company's computer network, extract data from the network, and extort ransom money from the company.
Justice Department Files Statement of Interest in Massachusetts Absentee Voting Rights Case08/25/2020 12:00 AM EDT
Yesterday, the Department of Justice filed a Statement of Interest in the Supreme Judicial Court in the Commonwealth of Massachusetts to help ensure that uniformed service members serving their country away from home, their family members absent with them, and American citizens living overseas have the opportunity to participate fully in Massachusetts's 2020 federal general election. The brief is part of the Department of Justice's continued efforts to enforce the Uniformed and Overseas Citizens Absentee Voting Act (UOCAVA).
---
---
---
---
9:00am to 10:00am ET, 13:00 to 14:00 GMT
The Fragility Forum 2020 Seminar Series is a virtual and interactive series of events organized by the World Bank to share practical solutions and explore innovative ways of responding to the most challenging FCV issues of our times.
---
"By Law", huh? Who knew? Kinda thought it was optional…how about you?

Tweet
---
---
---
TEENVOGUE
I wish I'd known…
---
Automated systems, designed to simplify our lives, are everywhere. From customer service chatbots to self-driving cars, artificial intelligence and related technologies continue to propel us forward at an ever-increasing pace. Now, the U.S. National Science Foundation and the Simons Foundation Division of Mathematics and Physical Sciences have partnered to fund research through the Mathematical and Scientific Foundations of Deep Learning, or MoDL, program. The interdisciplinary projects seek to understand and develop the theoretical foundations for deep learning networks. Deep Learning is part of a broader family of machine-learning methods that uses artificial neural networks to digest large amounts of raw data inputs and train AI systems without direct human supervision.
"NSF and our partners at the Simons Foundation recognize the importance of discovering the mechanisms by which deep learning algorithms work," says Juan Meza, Director of the Division of Mathematical Sciences at NSF. "By understanding the limits of these networks, we can push them to the next level."
Each team is receiving a total of $10 million over the next five years.
The Collaboration on the Theoretical Foundations of Deep Learning is led by the University of California, Berkeley. Seven additional academic partners, including two international collaborators, make up a team that aims to study the mathematical mechanisms that underpin the practical success of deep learning; explain the limitations of current methods; and expand the accuracy and applicability of deep learning systems.
The Transferable, Hierarchical, Expressive, Optimal, Robust, Interpretable NETworks (THEORINET) is led by Johns Hopkins University. With four additional collaborating institutions, THEORINET seeks to analyze properties of deep neural networks; develop robust learning algorithms; uncover new architectures for complex data; and design new representations suitable for transferring to multiple tasks.
Complementing NSF's National Artificial Intelligence Research Institutes, the MoDL program supports collaborations between mathematicians, statisticians, electrical engineers and theoretical computer scientists. In addition to ambitious research projects, the program will train students, host workshops and summer schools, and provide open access to results. As the need for data scientists grows, the benefits of programs like this one become clear. The interdisciplinary focus will build mathematical foundations and advance the understanding of deep learning and AI and enable the national workforce.
---
Where Are Stars Made? NASA's Spitzer Spies a Hot Spot
The most massive stars in the universe are born inside cosmic clouds of gas and dust, where they leave behind clues about their lives for astronomers to decode.
The nebula known as W51 is one of the most active star-forming regions in the Milky Way galaxy. First identified in 1958 by radio telescopes, it makes a rich cosmic tapestry in this image from NASA's recently retired Spitzer Space Telescope.
Located about 17,000 light-years from Earth, in the direction of the constellation Aquila in the night sky, W51 is about 350 light-years – or about 2 quadrillion miles – across. It is almost invisible to telescopes that collect visible light (the kind human eyes detect), because that light is blocked by interstellar dust clouds that lie between W51 and Earth. But longer wavelengths of light, including radio and infrared, can pass unencumbered through the dust. When viewed in infrared by Spitzer, W51 is a spectacular sight: Its total infrared emission is the equivalent of 20 million Suns. …CONTINUE READING
---
Tourism is much more than visiting cultural landmarks or swimming in tropical beaches; it is "one of the world's most important economic sectors", the UN chief said on Tuesday.
8/26 –
Statement by Department of Justice Spokesperson Kerri Kupec on the Execution of Lezmond Mitchell08/26/2020 12:00 AM EDT
Minneapolis Woman Pleads Guilty to Attempting to Provide Material Support to Al-Qa'ida08/26/2020 12:00 AM EDT
Assistant Attorney General for National Security John C. Demers and U.S. Attorney for the District of Minnesota Erica H. MacDonald today announced the guilty plea of Tnuza Jamal Hassan, 22, to attempting to provide material support to a designated foreign terrorist organization (al-Qa'ida). Hassan entered her guilty plea this morning before Judge Patrick J. Schiltz in U.S. District Court in Minneapolis, Minnesota.
Department of Justice Announces Rules Furthering Lawfulness and Transparency in the Regulatory Process08/26/2020 12:00 AM EDT
Second Government Contracting Executive Pleads Guilty to Bribery Conspiracy Involving PBGC Contracts08/26/2020 12:00 AM EDT
A second executive from a federal contracting firm pleaded guilty to a bribery conspiracy involving his business partner and a senior contracting official with the Pension Benefit Guaranty Corporation
Three Texans, One New Yorker Indicted for Conspiracy to Sell Sanctioned Iranian Petroleum to Refinery in China for Millions in Profit08/26/2020 12:00 AM EDT
Assistant Attorney General for National Security John C. Demers and U.S. Attorney for the Eastern District of Pennsylvania William M. McSwain announced that the following defendants were indicted on charges of conspiracy, violating the International Emergency Economic Powers Act (IEEPA), and money laundering conspiracy based on their attempt to transact in sanctioned Iranian petroleum
Miami Neighbors Charged with COVID-Relief Fraud after Falsely Claiming to be Farmers08/26/2020 12:00 AM EDT
Two Florida neighbors were charged in a complaint unsealed today with wire fraud and false statements for their alleged participation in a scheme to file fraudulent loan applications seeking more than $1.1 million in forgivable Paycheck Protection Program (PPP) and Economic Injury Disaster Loans (EIDL) loans guaranteed by the Small Business Administration (SBA) under the Coronavirus Aid, Relief, and Economic Security (CARES) Act.
Remarks of Deputy Attorney General Jeffery A. Rosen on Malign Foreign Influence in U.S. Elections08/26/2020 12:00 AM EDT
Thank you for hosting me today. What I want to talk about is malign foreign influence in U.S. elections. Now this might surprise some people, but 2020 happens to be a federal election year. So I want to start with some good news, which is that our election infrastructure — things like our polling places and printed ballots — have been well-protected and that protection has improved over the last three years. With regard to the most recent 2018 midterm elections, DHS and DOJ jointly found no evidence that foreign actors had "any material impact on the integrity or security of election infrastructure or political/campaign infrastructure used in the 2018 midterm elections for the United States Congress." Likewise, as the Senate Committee on Intelligence has reported, there is no evidence that any vote totals were altered or changed by any foreign actors in the 2016 Presidential election.
Missouri Man Sentenced to 46 Months for Unlawful Possession of a Firearm08/26/2020 12:00 AM EDT
The Honorable Chief Judge Rodney W. Sippel of the U.S. District Court for the Eastern District of Missouri sentenced Freddie Doyle, 32, to 46 months of imprisonment for violating 18 U.S.C. § 922(g), in relation to an attempted assault on patrons of a LGBTQ-community bar in St. Louis, Missouri.
Nevada Man Charged with Using COVID-Relief Funds to Buy House08/26/2020 12:00 AM EDT
A Nevada man has been arrested in connection with allegations that he fraudulently obtained approximately $500,000 from the Paycheck Protection Program (PPP) loan and the Economic Injury Disaster Loan (EIDL) program, and then laundered the funds through friends and family in order to buy a house.
Department of Justice Requesting Data From Governors of States that Issued COVID-19 Orders that May Have Resulted in Deaths of Elderly Nursing Home Residents08/26/2020 12:00 AM EDT
Today the Justice Department requested COVID-19 data from the governors of states that issued orders which may have resulted in the deaths of thousands of elderly nursing home residents. New York, New Jersey, Pennsylvania, and Michigan required nursing homes to admit COVID-19 patients to their vulnerable populations, often without adequate testing.
North Carolina State Legislator Pleads Guilty to Making a False Statement to a Bank08/26/2020 12:00 AM EDT
A member of the North Carolina House of Representatives pleaded guilty today to making a false statement to a bank and failing to file an income tax return
Bosnian National Charged with Robbery and Firearms Offenses in Connection With Attack on New York City Police Officers08/26/2020 12:00 AM EDT
An indictment was unsealed today in federal court in Brooklyn charging Dzenan Camovic with robbery and firearms offenses for his June 3, 2020, knife and firearm attack on multiple New York City Police Department (NYPD) police officers in Brooklyn. As set forth in the court filings, the defendant, a Bosnian national in the United States illegally, was motivated to attack the officers because of his interest in and support for violent Islamist extremism. The defendant is currently in state custody and is scheduled to be arraigned at a later date.
District Court Enters Permanent Injunction Shutting Down Telecom Carriers Who Facilitated Hundreds of Millions of Fraudulent Robocalls to Consumers in The United States08/26/2020 12:00 AM EDT
The U.S. District Court for the Eastern District of New York entered a consent decree imposing a permanent injunction barring two individuals and two companies that transmitted massive volumes of fraudulent robocalls from conveying any telephone calls into the U.S. telephone system, the Department of Justice announced today.
Ghanaian Citizen Extradited in Connection with Prosecution of Africa-Based Cybercrime and Business Email Compromise Conspiracy08/26/2020 12:00 AM EDT
A Ghanaian citizen residing in Tamale, Ghana, has been extradited to stand trial for an indictment charging him with wire fraud, money laundering, computer fraud and aggravated identity theft
---
---
---
---
---
---
---
---
Issues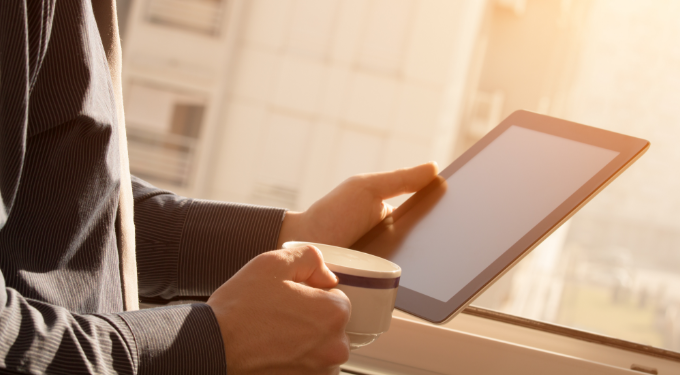 PSNet highlights the latest patient safety literature, news, and expert commentary, including Weekly Updates, WebM&M, and Perspectives on Safety. Current Issue highlights what's new this week in patient safety literature, news, conferences, reports, and more. Past Issues of the PSNet Weekly Update are available to browse. WebM&M presents current and past monthly issues of Cases & Commentaries and Perspectives on Safety
STUDYFactors associated with workarounds in barcode-assisted medication administration in hospitals.Veen W, Taxis K, Wouters H, et al. J Clin Nurs. 2020;29(13-14):2239250.
Using the ecological systems theory to understand black/white disparities in maternal morbidity and mortality in the United States.Noursi S, Saluja B, Richey L. J Racial Ethn Health Disparities. 2020;Epub Jul 29.
Safety climate associated with adverse events in nursing homes: a national VA study.Quach ED, Kazis LE, Zhao S, et al. J Am Med Dir Assoc. 2020;Epub Jul 7.
Associations between double-checking and medication administration errors: a direct observational study of paediatric inpatients.Westbrook JI, Li L, Raban MZ, et al. BMJ Qual Saf. 2020;Epub Aug 7.
Surgical errors happen, but are learners trained to recover from them? A survey of North American surgical residents and fellows.Gabrysz-Forget F, Young M, Zahabi S, et al. J Surg Educ. 2020;Epub Jul 18.
The impact of the COVID-19 pandemic on Emergency Department visits and patient safety in the United States.Boserup B, McKenney M, Elkbuli A. Am J Emerg Med. 2020;38(9):1732-1736.
Longitudinal medication reconciliation at hospital admission, discharge and post-discharge.Daliri S, Bouhnouf M, van de Meerendonk HWPC, et al. Res Social Adm Pharm. 2020;Epub Jun 14.
Bridging the gap between culture and safety in a critical care context: the role of work debate spaces.Leuridan G. Safety Sci. 2020;129:104839.
Adverse events related to accidental unintentional ingestions from cough and cold medications in children.Wang GS, Reynolds KM, Banner W, et al. Pediatr Emerg Care. 2020;Epub Jun 25.
COMMENTARYAttending to the emotional well-being of the health care workforce in a New York City health system during the COVID-19 pandemic.Ripp JA, Peccoralo L, Charney D. Acad Med. 2020;95(8):1136-1139.
Avoiding a second wave of medical errors: the importance of human factors in the context of a pandemic.Tejos R, Navia A, Cuadra A, et al. Aesthetic Plast Surg. 2020;Epub Jul 15.
The paradoxes of defensive medicine.Saks MJ, Landsman S. The paradoxes of defensive medicine. Health Matrix: J Law-Med. 2020;30(1):25-84.
Beyond the corrective action hierarchy: a systems approach to organizational change.Wood LJ, Wiegmann DA. Int J Qual Health Care. 2020;Epub Jun 24.
REVIEWThe use of anatomical side markers in general radiology: a systematic review of the current literature.Chung L, Kumar S, Oldfield J, et al. J Patient Saf. 2020;Epub May 9.
Role of artificial intelligence in patient safety outcomes: systematic literature review.Choudhury A, Asan O. JMIR Med Inform. 2020;8:e18599.
Scoping review of patients' attitudes about their role and behaviours to ensure safe care at the direct care level.Duhn L, Godfrey C, Medves J. Health Expect. 2020;Epub Aug 6.
NEWSPAPER/MAGAZINE ARTICLENurses and doctors sick with COVID feel pressured to get back to work.Huetteman E. Kaiser Health News. 2020;August 12.
ORGANIZATIONAL POLICY/GUIDELINESMedication dosing safety for pediatric patients: recognizing gaps, safety threats, and best practices in the emergency medical services setting. A position statement and resource document from NAEMSP.Cicero MX, Adelgais K, Hoyle JD, et al. Prehosp Emerg Care. 2020;Epub Jul 9.
SPECIAL OR THEME ISSUESituativity: A Family of Social Cognitive Theories for Clinical Reasoning and Error.
Durning S, Holmboe E, Graber ML, eds. Diagnosis(Berl). 2020;7(3):151-344.
---
---
---
8/27 –
Federal Court holds Florida Tax Return Preparer in Contempt08/27/2020 12:00 AM EDT
A federal court in Miami, Florida, held that Jessyca Bernard has violated a permanent injunction entered against her on June 25, 2018, which barred her from preparing tax returns for others.
Commercial Flooring Contractor Agrees To Plead Guilty To Bid Rigging08/27/2020 12:00 AM EDT
Vortex Commercial Flooring Inc., a Chicago-area commercial flooring contractor, has been charged for its role in a long-running antitrust conspiracy to rig bids and fix prices for commercial flooring services and products sold in the United States, the Department of Justice announced.
Assistant Attorney General Makan Delrahim Delivers Remarks at the Thirteenth Annual Conference on Innovation Economics08/27/2020 12:00 AM EDT
Thank you, Professor Spulber, for your introduction and invitation to join you today. I regret that I am not able to join you in person because this is one of the best times of the year to be in the Chicago area. On my past two trips to Chicago to speak at conferences, I addressed the importance of protecting intellectual property rights and ensuring competition in digital markets[1]—both pivotal to the modern innovation economy we inhabit today. I'm pleased to join the Kellogg School, the Northwestern University community, and the U.S. PTO for another opportunity to address the importance of innovation economics
United States Files Complaint to Forfeit 280 Cryptocurrency Accounts Tied to Hacks of Two Exchanges by North Korean Actors08/27/2020 12:00 AM EDT
The Justice Department today filed a civil forfeiture complaint detailing two hacks of virtual currency exchanges by North Korean actors. These actors stole millions of dollars' worth of cryptocurrency and ultimately laundered the funds through Chinese over-the-counter (OTC) cryptocurrency traders. The complaint follows related criminal and civil actions announced in March 2020 pertaining to the theft of $250 million in cryptocurrency through other exchange hacks by North Korean actors.
---
---
---
How Governors and Mayors Can Support Schools so Schools Can Support Students
repost/AUGUST 26, 2020 • EDUCATION AND SOCIETY PROGRAM & ASCEND
In the wake of the police shooting of Jacob Blake in Wisconsin, the Institute's Education & Society and Ascend programs hosted a digital event on how issues of racial justice play out in our school systems. Watch Wisconsin Governor Tony Evers; Albuquerque Mayor Tim Keller; and Learning Program Content Consultant at Cell-Ed and Ascend PSP Parent Advisor Waukecha Wilkerson discuss how to create lasting social change both in and outside of the classroom as the new school season begins.
---
Intelligent Manufacturing in Europe Coffee Chat Series
The U.S. Commercial Service's Global Advanced Manufacturing Team and Europe Team invite American exporters to join us for "virtual coffee chats" with our U.S. Embassy colleagues across Europe. These informal video discussions are through Microsoft Teams. Each session will cover the current status of the advanced manufacturing sector in the region and include a brief regional overview.

Register Here – August 27 – Sweden / Denmark / UK 11:00 AM EST

Register Here – September 17 – Russia / Ukraine / Georgia 11:00 AM EST
---
---
How's My Waterway Webinar
The U.S. Environmental Protection Agency (EPA)
How's My Waterway (HMW)
3 p.m. to 4 p.m.EST
Visit EPA's website to register or learn more about the webinar, or access the HMW tool directly.
---
HMW provides a comprehensive overview of water quality data and information in the United States on the community, state, and national scale. The webinar will include a live demo of the recently enhanced version of HMW.

4:00 p.m. – 5:00 p.m. ET
Presenters:
MaryAnn Romski, PhD, Georgia State University
---
---
NIMHD-Funded Study Reveals That Within Hospitals, Race and Ethnicity—But Not Insurance Type—Are Linked to Severe Maternal Illness
---
or trypanosomosis is the name of several diseases in vertebrates caused by parasiticprotozoantrypanosomes of the genus Trypanosoma.[citation needed] In humans this includes African trypanosomiasis and Chagas disease. A number of other diseases occur in other animals. African trypanosomiasis, which is caused by either Trypanosoma brucei gambiense or Trypanosoma brucei rhodesiense, threatens some 65 million people in sub-Saharan Africa, especially in rural areas and populations disrupted by war or poverty. The number of cases has been going down due to systematic eradication efforts: in 1998 almost 40,000 cases were reported but almost 300,000 cases were suspected to have occurred; in 2009, the number dropped below 10,000; and in 2018 it dropped below 1000. Chagas disease causes 21,000 deaths per year mainly in Latin America.
Signs and symptoms
The tsetse fly bite erupts into a red chancre sore and within a few weeks, the person can experience fever, swollen lymph glands, blood in urine, aching muscles and joints, headaches and irritability. In the first phase, the patient has only intermittent bouts of fever with lymphadenopathy together with other non-specific signs and symptoms. The second stage of the disease is marked by involvement of the central nervous system with extensive neurological effects like changes in personality, alteration of the biological clock (the circadian rhythm), confusion, slurred speech, seizures and difficulty in walking and talking. These problems can develop over many years and if not treated, the person dies. It is common to the African continent.
---
UN NEWS
Togo overcomes 'sleeping sickness' as a public health problemThe West African nation of Togo has eliminated human African trypanosomiasis or "sleeping sickness" as a public health problem, becoming the first in the continent to achieve the milestone, the UN World Health Organization (WHO) has said. Health
8/28 –
Chinese National Charged with Destroying Hard Drive During FBI Investigation into the Possible Transfer of Sensitive Software to China08/28/2020 12:00 AM EDT
A Chinese national and researcher at the University of California, Los Angeles has been arrested on federal charges of destroying evidence to obstruct an FBI investigation after he was observed throwing a damaged hard drive into a dumpster outside his apartment, the Justice Department announced today.
Statement by Department of Justice Spokesperson Kerri Kupec on the Execution of Keith Dwayne Nelson08/28/2020 12:00 AM EDT
Statement from Attorney General William P. Barr on the Ninth Circuit's Stay in the Case Concerning the Federal Courthouse in Portland08/28/2020 12:00 AM EDT
U.S. Seizure of Three Websites Used by Iranian Front Company that Was Shipping Fuel on Four Tankers to Venezuela08/28/2020 12:00 AM EDT
The Justice Department today announced the seizure of three websites used by three front companies: Mobin International, Sohar Fuel, and Oman Fuel, who arranged a multimillion dollar fuel shipment by the Islamic Revolutionary Guard Corps (IRGC), a designated foreign terrorist organization, that was bound for Venezuela.
Herbalife Nutrition Ltd. Agrees to Pay Over $122 Million to Resolve FCPA Case08/28/2020 12:00 AM EDT
Herbalife Nutrition Ltd. (Herbalife), a U.S.-based publicly traded global nutrition company, has agreed to pay total penalties of more than $122 million to resolve the government's investigation into violations of the Foreign Corrupt Practices Act (FCPA). The resolution arises out of Herbalife's scheme to falsify books and records and provide corrupt payments and benefits to Chinese government officials for the purpose of obtaining, retaining, and increasing Herbalife's business in China. This includes a criminal penalty of over $55 million and approximately $67 million to be paid to the U.S. Securities and Exchange Commission (SEC) in a related matter.
---
---
---
---
PSYCHOLOGY Today
Is brain fog clouding your thoughts? Nootropic supplements may help you sharpen up.
Psychotherapy fosters a healing relationship, a shared understanding of the person, situation, problem and goals, and acceptance and active change that enables adaptive growth.
How to increase the odds of finding a mate.
How do you know if you're dealing with a mental health issue? Making it in this world is hard enough without the burden of carrying unwarranted mental health labels.
---
A lightly challenging puzzle.
---
Condé Nast Spotlight
CONDÉ NAST TRAVELERIn Mali, Music Is a Family Legacy
On a night out in the country's capital, Malian music—and its performers—captured author Teju Cole's full attention.
WIREDApple's $2 Trillion Valuation Weakens Its Fight Over Fortnite
Plus: Steve Jobs on apps, Bill Gates on the TikTok sale, and bad weather getting worse.
TEEN VOGUEBacterial Vaginosis: Causes, Risk Factors, Treatments, and How to Get Rid of BV
Learn more about the causes and symptoms, plus how to get rid of BV in one day.
ARCHITECTURAL DIGESTSee Inside This Classic Spanish Colonial House in Santa Monica
ALLUREThis Ear Piercing Is Gaining Popularity For Its Unexpected Placement
GQThe Best Electric Toothbrush Costs a Lot Less Than You Think
SELFThis Product Finally Ended My Painful Chafing While Running
Spotlight: The Latest on The Coronavirus
THE NEW YORKERThe Complicated Ethics of Keeping a COVID-19 Patient Breathing
VOGUEYour Guide to Voting by Mail During the 2020 Election
CONDÉ NAST TRAVELERAmerica's Dive Bars Face an Uncertain Future
ARCHITECTURAL DIGESTCovid-19 Has Us Getting Back Together With Our Ex (Single-Use Plastics)
Spotlight: Elections 2020
THE NEW YORKERThe Trump Campaign Tries to Change the Subject
VANITY FAIRTrump's Planning to Throw Everything He Can At Biden
TEEN VOGUEI'm Casting a Ballot Against Full-Blown Fascism
THE NEW YORKERInside Acronym, the Tech Consultancy Behind the Disastrous Iowa-Caucus App
Spotlight: Racism in America
CONDÉ NAST TRAVELERWhat It Took to Write a Modern Day 'Green Book' for Black Travelers
WIREDThis Team Made a $500 Ventilator—but How Will It Be Used?
VANITY FAIRTime: How a Determined Louisiana Mother Battled the Prison System
THE NEW YORKERCan Biden's Center Hold?
---
Terra MISR Used to Visualize Cloud-top Heights From Tropical Storm Laura in 3D
This perspective can help researchers spot features in a hurricane, including those that could indicate whether a hurricane will intensify or weaken.
On Aug. 25, several days before Hurricane Laura made landfall as a destructive Category 4 storm in Louisiana, NASA's Terra satellite flew over Laura in the Gulf of Mexico. Using its Multi-angle Imaging SpectroRadiometer (MISR) instrument, the satellite collected data on wind speeds and cloud-top heights as the sthorm intensified and moved northwest towards the U.S.
The coolest interactive visualization of 3D cloud-top height data from Hurricane Laura on Aug. 25, 2020, captured by the MISR instrument aboard NASA's Terra satellite. Credit: NASA Disasters Program, Esri
The NASA Earth Applied Sciences Disasters Program Geographic Information Systems (GIS) team worked closely with representatives from the Esri 3D team to produce the first-ever interactive 3D visualization of MISR cloud-top height data and publish it to the NASA Disasters Mapping Portal.
---
---
UN NEWS
New guidelines aim to dismantle barriers blocking people with disabilities from access to justice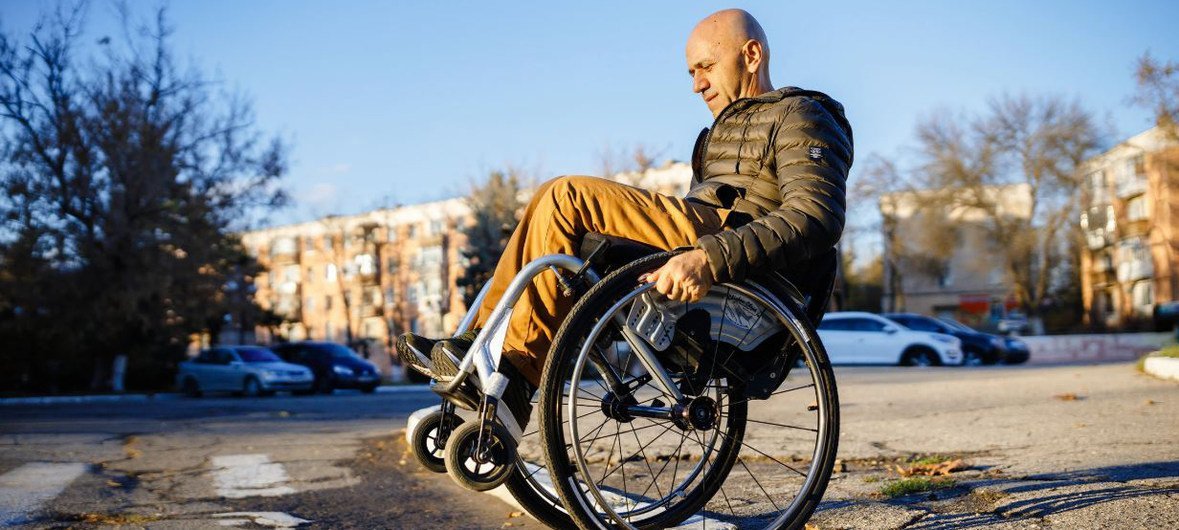 UNDP Moldova/ Ion BugaIt takes Dmitry Kuzuk, an activist for persons with disabilities, a lot of skill and effort to navigate through city streets in his wheelchair.Human Rights
The first-ever guidelines on access to justice for people with disabilities are an "indispensable contribution" towards ensuring justice for all, UN human rights experts said on Friday.
The document will help countries dismantle the barriers that block people with disabilities from being able to use justice systems worldwide.
8/29 –
---
---
9 Rural Farms of the 21st Century Featuring Stunning Modern Design
From Italy to Tasmania, a new book covers those farms with an eye on both sustainability and beautiful design
Some of the world's most functional architecture can be found on the farm. From farmhouses to stables to barns, farming structures value simplicity and practicality above all. The efficiency of these buildings has long been an inspiration to modern architects designing homes, museums, and commercial buildings, but lately modern architecture has also been influencing farms. In the upcoming book
The New Farm: Contemporary Rural Architecture (Princeton Architectural Press, $45), author Daniel P. Gregory explores how farms have taken a bolder approach to agricultural design with striking exteriors, grand interiors, and inventive materials. Gregory showcases 16 farms around the world, from a cathedral-like dairy farm in New York state to sleek stables in New South Wales, Australia. Each of the family businesses offers a new take on farming traditions with an eye to sustainability and beautiful design.
---
The National Institute of Food and Agriculture (NIFA) is a U.S. federal government body whose creation was mandated in the Food, Conservation, and Energy Act of 2008. Its purpose is to consolidate all federally funded agricultural research, and is subordinate to the U.S. Department of Agriculture. It replaced the Cooperative State Research, Education, and Extension Service in 2009.
The mission of the National Institute of Food and Agriculture (NIFA), an agency of the U.S. Department of Agriculture (USDA), is to stimulate and fund the research and technological innovations that will enhance American agriculture and make it more productive and environmentally sustainable while ensuring the economic viability of agriculture and production. The Institute was developed as a result of a task force chaired by William Henry Danforth and appointed by then-Secretary of AgricultureAnn M. Veneman. The Danforth Task Force recommended that Congress authorize the creation of NIFA as a way to strengthen agriculture research and to attract additional highly competitive research scientists to this field of endeavor. A growing program in competitive research grants will be a hallmark of the new agency. The creation of NIFA strengthened USDA's competitive research portfolio by replacing the National Research Initiative with the Agriculture and Food Research Initiative. NIFA awards research funding through a combination of competitive grants and funds allocated to states under statutory formulas.
---
---
The Environmental Protection Agency is an independent executive agency of the United States federal government tasked with environmental protection matters. President Richard Nixon proposed the establishment of EPA on July 9, 1970; it began operation on December 2, 1970, after Nixon signed an executive order. The order establishing the EPA was ratified by committee hearings in the House and Senate. The agency is led by its administrator, who is appointed by the president and approved by the Senate. The current administrator is former deputy administrator Andrew R. Wheeler, who had been acting administrator since July 2018. The EPA is not a Cabinet department, but the administrator is normally given cabinet rank.
8/30 –
---
---
---
PSYCHOLOGY TODAY
Encouraging more playfulness in day-to-day life may offset depression and boost overall well-being, a new study reports.
There are times when we are between chapters of our lives, when we feel adrift and uncertain about the future. While this is normal it can be challenging. Tips for moving through.
How much time do you spend following what your friends are doing online? Apparently, monitoring others can lead to fear of missing out.
Working from home during the pandemic can be extra challenging when you have boss conflicts. There are steps you can take to gain control.
Elon Musk unveils Neuralink's brain-computer interface in a demo with live pigs.
The power of sleep manifest when sleeping socially.
In a close relationship you expect your partner to want the best for you but according to new research this doesn't always happen. See what motives drive the unsupportive partner.
What actually is an asshole? Can modern-day personality science identify different types of assholes? Who isn't an asshole? Let's take a deep dive into the "asshole circumplex".
A baby's language and culture influence which words they say first.
The likely most effective strategy for reelection would seem to make no logical sense—unless you think systemically.
How to deal with trade-offs between generations?
What Chadwick Boseman showed us about living with cancer.
Do you turn to people, places and/or things to fill an emotional need? Self-love can go a long way.
Understanding how mental illness influences crimes within the military.
If anything drives parents or kids to therapy, it's navigating home school—again. Using one psycho-ed theory might add to school/home harmony rather than subtract from it.
Why judging ourselves for who we used to be is pointless and destructive.
Thanks to the science behind DNA tests, secrets are tumbling out with a never-before seen ferocity for those who discovered misattributed parentage, and the fallout affects family.
From a 1958 magazine: "129 ways to get a husband." It was hilarious, revealing, old-fashioned, and yet familiar. Why it should be renamed "129 reasons to be happy you are single."
When you are overcome with stress and anxiety you may miss life-changing opportunities. Bringing a calm and intentional presence to those moments can reveal their possibilities.
Have a client gearing up for a march or protest? Hopeful it might be empowering, yet worried it might be dangerous? Here's a few ways concerned therapists can help.
10 suggestions to make pandemic homeschooling a time of self-discovery, creativity, and relationship-building, as well as some academic learning
Experiencing sexual shame with chronic illness? Overcoming shame starts with talking about it.
Human beings fail miserably at foresight. We thrive on instant gratification. Playing the long game, in post-modern American culture, is not something readily within our worldview.
Feeling like a third wheel? You may be the victim of a heartless manipulation called "triangulation."
A story reached me recently – a story that made me stop breathing for a moment. And it had to do with the prison of destructive perfectionism.
If protecting our ego is more important than protecting our life, something about the human condition is illuminated.
Overwhelmed by COVID fears and regulations? Some basics about processing loss may help.
Want to live a better life – even a longer life? Get help for your adult ADHD.
---
8/31 –
Two North Carolina Tax Preparers Indicted for False Returns08/31/2020 12:00 AM EDT
A federal grand jury in Greensboro, North Carolina, returned an indictment today charging two tax preparers with conspiring to defraud the United States and assisting in the preparation of false client tax returns, announced Principal Deputy Assistant Attorney General Richard E. Zuckerman of the Justice Department's Tax Division and U.S. Attorney Matthew G.T. Martin for the Middle District of North Carolina.
Hawaii Businesswoman Pleads Guilty to Facilitating Back-channel Lobbying Campaign to Drop 1MDB Investigation and Remove a Foreign National to China08/31/2020 12:00 AM EDT
An American businesswoman with international ties pleaded guilty today for her role in facilitating an unregistered lobbying campaign of the Administration of the President of the United States and the U.S. Department of Justice on behalf of foreign principals in exchange for millions of dollars.
Owner of Japanese Fishing Vessel Charged with Unlawful Trafficking of Shark Fins08/31/2020 12:00 AM EDT

Florida Man Sentenced for Racially-Motivated Interference with Election in Charlottesville, Virginia and for Cyberstalking in Florida08/31/2020 12:00 AM EDT
Daniel McMahon, 32, was sentenced today in federal court in the Western District of Virginia to 41 months of imprisonment for threatening an African-American Charlottesville City Council candidate because of his race and because he was running for office, and for cyberstalking a separate victim through Facebook messenger, the Justice Department announced today. Following his term of incarceration, McMahon will be placed on three years of supervised release, during which time he will be prohibited from using internet-capable devices without prior court approval.
Company Pleads Guilty to Money Laundering Violation as Part of Scheme to Circumvent North Korean Sanctions and Deceive Banks, Agrees to Pay Forfeiture and Fine08/31/2020 12:00 AM EDT
Yang Ban Corporation, a company established in the British Virgin Islands in 2014 that operated in South East Asia pleaded guilty today to conspiring to launder monetary instruments in connection with evading sanctions on North Korea and deceiving correspondent banks into processing U.S. dollar transactions. The company will pay a financial penalty totaling $673,714.04.
United States Agrees with Power and Light Company to Resolve Alleged Violations of the Clean Air Act08/31/2020 12:00 AM EDT
Head of New York Medical Clinics Sentenced to 156 Months in Prison for Multimillion-Dollar Money Laundering and Health Care Kickbacks Scheme08/31/2020 12:00 AM EDT
A Brooklyn man was sentenced to 156 months in prison today for his role in a vast multimillion-dollar health care kickback and money laundering conspiracy.
Operation Legend: Case of the Day08/31/2020 12:00 AM EDT
North Carolina Man Pleads Guilty to COVID-19 Relief Fraud Schemes08/31/2020 12:00 AM EDT
A North Carolina man pleaded guilty today to perpetrating three schemes between March and July 2020 connected to the COVID-19 pandemic, through which he defrauded consumers and the federal government's relief programs.
---
---
---
---
Green Your Way Back to School
It's back to school season and while school looks a little differently for everyone this year, K-12 and college alike, we encourage families and students to comply with COVID-19 guidelines, stay healthy, and focused on studies. Below are some sustainable considerations to help guide your way back to school:
Reuse notebooks, folders and other schools supplies from last year
Reuse your backpack from last year
Use both sides of paper
Buy used textbooks or online versions
Pack lunch with reusable containers
Say no to plastic utensils, straws and condiment packets if you don't need them
Use reusable water bottles
Turn off and unplug laptops, printers, chargers and other devices when not in use to conserve energy.
Take your sustainability club or other club meetings virtual to keep sharing ideas and planning.
Get crafty and make your own homemade, reusable mask.
---
---
---
9/1 –
---
---
---
are biological states associated with the nervous system brought on by neurophysiological changes variously associated with thoughts, feelings, behavioural responses, and a degree of pleasure or displeasure. There is currently no scientific consensus on a definition. Emotions are often intertwined with mood, temperament, personality, disposition, creativity and motivation.
Research on emotion has increased significantly over the past two decades with many fields contributing including psychology, neuroscience, affective neuroscience, endocrinology, medicine, history, sociology of emotions, and computer science. The numerous theories that attempt to explain the origin, neurobiology, experience, and function of emotions have only fostered more intense research on this topic. Current areas of research in the concept of emotion include the development of materials that stimulate and elicit emotion. In addition, PET scans and fMRI scans help study the affective picture processes in the brain.
From a purely mechanistic perspective, "Emotions can be defined as a positive or negative experience that is associated with a particular pattern of physiological activity." Emotions produce different physiological, behavioral and cognitive changes. The original role of emotions was to motivate adaptive behaviors that in the past would have contributed to the passing on of genes through survival, reproduction, and kin selection.
In some theories, cognition is an important aspect of emotion.
---
Geometric and Modular Representation Theory
Sep 1, 2020 – Apr 30, 2021
---
(/kɒɡˈnɪʃ(ə)n/ (listen)) refers to "the mental action or process of acquiring knowledge and understanding through thought, experience, and the senses". It encompasses many aspects of intellectual functions and processes such as attention, the formation of knowledge, memory and working memory, judgment and evaluation, reasoning and "computation", problem solving and decision making, comprehension and production of language. Cognitive processes use existing knowledge and generate new knowledge.
Cognitive processes are analyzed from different perspectives within different contexts, notably in the fields of linguistics, anesthesia, neuroscience, psychiatry, psychology, education, philosophy, anthropology, biology, systemics, logic, and computer science. These and other different approaches to the analysis of cognition are synthesised in the developing field of cognitive science, a progressively autonomous academic discipline.
9/2 –
Governments at all levels are being tasked to think outside the box to meet today's ever-growing list of challenges, especially in the midst of shrinking budgets and the ongoing pandemic.
The only way to be successful is to modernize and innovate. But, many agencies are saddled with slow legacy systems, untrained personnel and outdated processes. Governments need to find creative solutions to these problems, which often means looking at new technologies and solutions.
Free!
Government Innovators Virtual Summit: Solving Your Agency's Biggest Challenge
9:30 a.m.-4:30 p.m. ET /
6:30 a.m.-1:30 p.m. PT.
You'll hear from government and industry experts about how to transform your agency with creative solutions and innovative ideas.
Virtual Summit Schedule
Review the schedule below for details and check back for speaker updates.
[9:30 a.m. ET/6:30 a.m. PT]
Virtual environment is open!
Download resources on cyber, cloud, digital services, customer experience, leadership and more throughout the environment. These resources will help you solve some of your agency's biggest challenges.
[10:00 – 10:20 a.m. ET/7:00 – 7:20 a.m. PT]
Opening Government Keynote: Rising to the Gov 2020 Challenge
Speaker: Louis Stewart, Chief Innovation Officer, Office of Innovation and Economic Development, City of Sacramento
2020 has put historic pressure on governments across the country to serve citizen needs in new ways. As agencies shuttered their physical doors during the COVID-19 outbreak, agencies needed to find ways to still deliver critical government services. In this opening keynote, you'll hear how one agency uses new technologies to meet mission objectives in the time of COVID-19.
[10:30 – 11:20 a.m. ET/7:30 – 8:20 a.m. PT]
Session 1: DevSecOps: The Future of Software Development and Delivery
Session attendees can earn one CPE
Speaker: James Harmison, Senior Solutions Architect, Red Hat
In this presentation, you'll learn about the nature of software delivery in government today and the way development teams are organized and funded. Before proposing DevSecOps as a mindset and methodology, governments should explore the history of development, operations and security models. By taking a look at where this movement comes from, what it means to those who started it, and where it is heading, agencies can use lessons already learned by others and apply them to their own processes.
[11:30 a.m. – 12:20 p.m ET/8:30 – 9:20 a.m. PT]
Session 2: How AI-Driven Analytics Are Transforming Gov
Session attendees can earn one CPE
Speakers:
Greg Little, Director of the Chief Financial Officer Data Transformation Office, Office of the Deputy Chief Financial Officer, Office of the Under Secretary of Defense (Comptroller)
Monica McEwen, Vice President Public Sector, ThoughtSpot
Brian Shealey, Director, DoD/IC, Trifacta
The Presidential Management Agenda and the Cross-Agency Priority Goals featured clear guidance for using, optimizing and modernizing with artificial intelligence (AI) driving analytics. What are AI-driven analytics? And how are they able to help the government transform? In this engaging session, you will hear from government and industry experts, about how agencies use analytics as a true strategic assist.
Specifically, you'll learn:
How agencies are leveraging the increasing volume, variety, and importance of data as a strategic asset.
To shift from low-value to high-value work, increasing efficiency and lowering cost.
How to equip the 21st-century government workforce, from executives to front-line workers, to instantly analyze vast amounts of data to make informed decisions.
[12:30 – 1:20 p.m. ET /9:30 – 10:20 a.m. PT]
Session 3: Fearless, Secure and Compliant: Optimizing the Cloud
Session attendees can earn one CPE
Speakers:
Brad Beaulieu, Cloud Security Architect, Booz Allen
Faisal Iqbal, Manager of Federal Solutions Architecture, Amazon Web Services
Drew Epperson, Palo Alto Networks Federal, Chief Architect

The cloud allows your agency to capitalize on efficiency, agility, and flexibility to transform operations – even within highly secure and regulated environments. Successful migration is the goal for government agencies looking to transition to, and optimize within, the cloud.
Fearless migration to the cloud includes a continuous security and compliance strategy that bakes these elements into overall cloud maintenance and operations. In this engaging panel discussion with government and industry experts, you'll hear how agencies are using automation tools to securely audit and manage resources in the cloud.
Specifically, you'll learn:
How fearless migration empowers government agencies to adopt cloud technologies.
The benefits of using automation tools to audit, maintain, and effectively operate in the cloud/
Examples of how cloud managed service providers can help automate operation models to achieve continuous compliance.
Methods for producing efficiencies and providing mission-driven, high-quality experience for end users.
[1:30 – 2:20 p.m. ET/10:30 – 11:20 a.m. PT]
Session 4: Proactively Detect and Prevent Security Threats with AI-driven Analytics
Session attendees can earn one CPE.
Speaker: Matt Porco, Principle System Engineer, Citrix Public Sector
The risk of data breaches has never been higher for government agencies, especially with large numbers of employees working from home. One bad actor with access to sensitive data can compromise IT systems leading to mission degradation and loss of citizen confidence. Key to mitigating this risk is continuous monitoring of user behavior for proactive threat detection.
Learn how analytics leverages artificial intelligence (AI) and machine learning (ML) to provide complete visibility into user activity for real-time threat assessment and risk management.
Specifically, you'll learn:
How to go beyond rules-based security monitoring by using powerful AI and ML.
Why user behavior analysis is critical for countering insider threat.
How to integrate analytics into a broader security framework.
[2:30 – 3:20 p.m. ET/11:30 a.m. – 12:20 p.m. PT]
Session 5: Data + Analytics = Digital Transformation
Session attendees can earn one CPE.
Speakers:
Andy MacIsaac, Director, Solutions Marketing, Public Sector, Alteryx, Inc.
Scott Beliveau, Branch Chief of Advanced Analytics, United States Patent and Trademark Office
Agencies are working hard to modernize legacy systems to meet new federal mandates. The ability to democratize data, automate processes and upskill resources are the keys to these digital transformation efforts.
In this engaging panel discussion, you will hear from government and industry experts about how agencies are looking to elevate their analytics capability through process automation to accelerate mission outcomes, improve service delivery and modernize operations.
Specifically, you will learn:
How to manage challenges agencies face when modernizing and automating processes.
How successful organizations have been able to meet federal mandate standards with automation and data analytics.
Why the convergence of data, process and people is critical to successful digital transformation efforts in government.
[3:30 – 4:20 p.m. ET/12:30 – 1:20 p.m. PT]
Session 6: Accelerating Government's Data Storage Options in the Wake of COVID-19
Session attendees can earn one CPE
Speaker: Nick Psaki, Principal Engineer, Pure Storage
COVID-19 has upended the way that agencies work. The move to remote work has challenged how governments think about securely storing, sharing and utilizing their data. To optimize their data services, agencies need to take advantage of a storage-as-a-service subscription model so that they pay for only what they use on-demand.
In this engaging panel, you will hear from government and industry leaders about upgrading agencies' legacy storage services without disrupting workflows.
Specifically, you'll learn:
How agencies using a storage-as-a-service model have been able to reduce downtime by more than 99%.
The biggest barriers facing the newly remote workforce in accessing and storing information.
How successful organizations have been able to properly scale and budget their storage needs.
[4:20 – 4:30 p.m. ET/1:20 – 1:30 p.m. PT]
Last Chance Swag
Stop by the Learning Center to download resources on improving your data storage, optimizing with the cloud, understanding the challenges facing the government workforce and more.
Why Should You Attend?
Learn virtually and network with your peers.
Earn up to 6 CPEs by attending and participating in the live sessions.
Grow your network by connecting virtually with your government peers.
Download free resources all about innovation and problem-solving in government.
Chat with GovLoop and learn how our free resources can open up a new world of learning.
---
---
9/3 –
9/4 –
9/5


10 a.m.
Family Fun: Old Field Trail Walk
We'll follow the Old Field Trail to look for signs of wildlife. This rich habitat has animals of all sizes who make their homes, find their food, and raise their young in the brushy tangle that edges the trail. Let's discover them together. Space is limited. Call 518-475-0291 by September 2 to register.
Photo credit: Scott Stoner
9/11 –
Black Farming: Beyond "40 Acres and a Mule."
September 11th & 12th 2020
NOW ONLINE
This event is FREE and open to the public.
People of African descent have a long agricultural tradition. In spite of their forced farm labor under chattel slavery in the Americas, in emancipation most African Americans returned to this tradition as independent farmers or sharecroppers.
This conference will be discussing the influential history of black farmers in Ohio with an emphasis on the strength of community, preparing the next generation of underrepresented farmers for the future, and cultivating the cooperative business model to promote healthy farming and sustainable businesses. There will be keynote addresses, breakout sessions, networking, a resource fair, and more!
Keynote Speakers: Anna-Lisa Cox, author of The Bone and Sinew of the Land: America's Forgotten Black Pioneers and the Struggle for Equality and Terry Cosby, USDA – NRCS.
Other speakers include Kevin McGruder, Ph.D. and Cornelius Blanding, President of the Federation of Southern Cooperative.
Sponsored by Community Solutions, Antioch College, and The Afro-American Museum and Cultural Center.
SCHEDULE:
Friday, September 11, 2020
Evening Keynote Address by Anna-Lisa Cox Time: 7:00pm
Saturday, September 12, 2020
Conference Start Time: 9:00am
Registration: 8:15am
Location: Antioch College, McGregor Hall
9:00am – 4:00pm: Resource Fair with Central State University and Ohio State University extension offices, USDA, Farm-Credit of Mid-America
9:00am – 9:30am: Kevin McGruder, PhD, Moderator/Speaker
9:30am – 10:30am: Keynote Speaker: Terry Cosby, USDA – NRCS.
10:30am – 11:00am: Break
12:30pm – 1:30pm: Lunch and Conversation
1:30pm – 3:00pm: Breakouts Sessions –McGregor Hall, 45 min. Breakout sessions to run concurrently; 1:30pm – 2:15pm; 2:15pm – 3:00pm
3:00 – 4:00pm: Farming Cooperative Presentation – Cornelius Blanding, President, Federation of Southern Cooperatives
4:00pm – 5:00pm: – Where do we go from here? – Facilitated discussion
Conference Adjourns
---
9/12 –
10 a.m. – 11 a.m.
Photo Presentation: Seasons of Five Rivers
From field to forest, from ponds to flowing waters, Five Rivers' habitats support an unusually wide variety of life within its 450+ acres at the edge of suburbia. Birds, mammals, amphibians, insects, and more await discovery! For DEC's 50th anniversary, nature photographers Scott Stoner and Denise Hackert-Stoner will showcase the beauty and diversity of this beloved place that is such an integral part of the Capital Region. Space is limited. Call 518-475-0291 by September 9 to register.
Photo credit: Scott Stoner
9/13 –
9/14 –
9/15 –
Open Policy Session of the National Advisory Mental Health Council (NAMHC)
---
DIRECTED ENERGY SERIES VIRTUAL EVENT 3
Directed Energy's Contribution in the Gray Zone
"Gray zone" challenges have been defined by the U.S. SOCOM as "competitive interactions… that fall between the traditional war and peace duality,"* going beyond normal international interactions yet falling short of overt military force. When a country is faced with the need to counter gray-zone operations, it is typically faced with military target ambiguity and the need to have a proportionate response. There is little margin for error – an unintended injury or casualty could dramatically escalate international tensions.
Non-kinetic weapons may provide a useful proportional alternative to our conventional kinetic capabilities. Join us for a conversation on the potential application of directed energy to some of the unique challenges presented by gray-zone scenarios.Register Now
Virtual Event Details:
12:00 – 1:00 pm EDT
Registration is free
What You'll Learn:
What are the parameters of gray-zone conflicts and what strategic opportunities do they present?
What are some specific examples of gray-zone conflicts?
What aspects of directed energy weapons make them well suited to addressing gray-zone conflicts?
Moderator:
Kris Osborn
Managing Editor, Warrior Maven, and Defense Editor, The National Review
Guest Speakers:
Col. Wendell B. Leimbach, Jr., USMC
Director, Joint Intermediate Force Capabilities Office
Dr. David Stoudt
Senior Executive Advisor and Engineering Fellow for Directed Energy, Booz Allen Hamilton
Directed Energy's Contribution in the Gray Zone
9/16 –
9/17 –
Intelligent Manufacturing in Europe Coffee Chat Series
The U.S. Commercial Service's Global Advanced Manufacturing Team and Europe Team invite American exporters to join us for "virtual coffee chats" with our U.S. Embassy colleagues across Europe. These informal video discussions are through Microsoft Teams. Each session will cover the current status of the advanced manufacturing sector in the region and include a brief regional overview.

Register Here – September 17 – Russia / Ukraine / Georgia 11:00 AM EST
---
12:00 PM to 6:00 PM ET
The U.S. Department of Health and Human Services (HHS) Office of Minority Health (OMH) is hosting a virtual symposium on the impact of COVID-19 among minority communities. The Advancing the Response to COVID-19: Sharing Promising Programs and Practices for Racial and Ethnic Minority Communities virtual symposium will feature promising practices, programs, and strategies for combatting the pandemic in order to achieve health equity in communities of color.

OMH invites our partners at the regional, state, Tribal and community levels to join us as we convene public health leaders from state and local levels to discuss their organizations' response to address COVID-19 in racial and ethnic minority and American Indian and Alaska Native populations.
---
CDC
NATIONAL CENTER ON BIRTH DEFECTS AND DEVELOPMENTAL DISABILITIES NCBDDD
Public Health Webinar Series on Blood Disorders: Update on COVID-19 and Thrombosis Risk
2:00 PM – 3:00 PM ET.
Severe acute respiratory syndrome coronavirus 2 (SARS-CoV-2), the causative agent of coronavirus disease (COVID-19), has now spread to more than 180 countries. Currently, more than 17 million confirmed cases of COVID-19 and more than 680,000 associated deaths have been reported worldwide. Peer-reviewed reports from centers in several different parts of the world have raised the concern that the risk of venous thromboembolism (VTE) may be unusually high in patients with SARS-CoV-2 infection, even when standard pharmacologic prophylaxis is administered. However, the published evidence varies with respect to the magnitude of risk increase, and there are still many unanswered questions. Registration is free.
---
The von Kármán Lecture Series: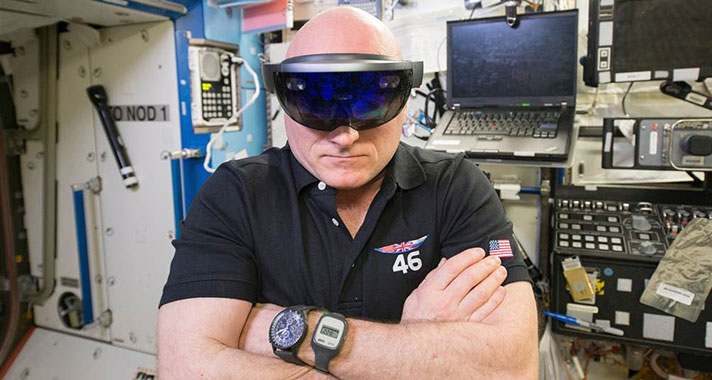 Visualizing Space Exploration: AR, VR & Emerging Tech
Time: 7 p.m. PDT (10 p.m. EDT; 0200 UTC)
We will explore how Augmented Reality, Virtual reality, and other forms of Mission Ops visualization can influence our Public Outreach and vice versa. As we delve deeper into the synergy of this work, we will see how it affects the way we design our spacecraft and the way we look at the world.
Host:
Brian White
Speaker(s):
Sasha Samochina, Deputy Manager of the Ops Lab, NASA Jet Propulsion Laboratory
Jason Craig, Visualization Producer, NASA Jet Propulsion Laboratory
Webcast:
› Click here to watch the event live on YouTube
› Click here to watch the event live on Ustream
9/18 –
Report Out Session of the HIV-Related Intersectional Stigma Research Advances and Opportunities Workshop
11:30 AM―2:30 PM ET
Sponsored by:
National Institutes of Health (NIH) Office of AIDS Research and National Institute of Mental Health (NIMH) Division of AIDS Research
The NIH Office of AIDS Research and the NIMH Division of AIDS Research for a discussion about the outcomes of recent meetings of four workgroups focused on HIV-related intersectional stigma research advances and opportunities. The goal of this virtual workshop is to advance HIV prevention and treatment science, inform the Ending the HIV Epidemic (EHE) initiative, and bolster HIV efforts worldwide. During the workshop, researchers, government officials, and community partners will report on the following:
Development of a common understanding of the concept of intersectional stigma and discrimination within the context of HIV prevention and care;
Harmonization of methods and measurements of intersectional stigma and discrimination;
Identification of opportunities within, across, and beyond EHE jurisdictions to monitor intersectional stigma and discrimination;
Review of evidence-based interventions designed to reduce intersectional stigma and discrimination;
Integration and tailoring of intersectional interventions to advance EHE goals and improve HIV prevention and treatment outcomes globally; and
Next steps to address research opportunities and advance implementation plans.
Registration:
Please register online to attend this free event.
9/19 –
9/20 –
9/21 –
Fall BOW Virtual Workshop
DEC's Becoming an Outdoor's-Woman (BOW) will host a fall BOW Virtual Workshop September 21, 2020 – September 25, 2020. This event is free to participate.
Each evening, starting at 6:30 p.m., we will have a one-hour webinar introducing you to a new outdoor skill!
Virtual classes will include:
Food Preservation
Intro to Bowhunting
Fish and Game Cooking
Q & A Panel with Women Who Hunt and more!
Registration will open September 4th.
For more information on the workshop and other topics like this, sign up for the BOW newsletter, visit the BOW webpage, or contact BOW NY for more information.
9/22 –
9/23 –
9/24 –
9/25 –
OCTOBER😁
---
10/15 –
The von Kármán Lecture Series: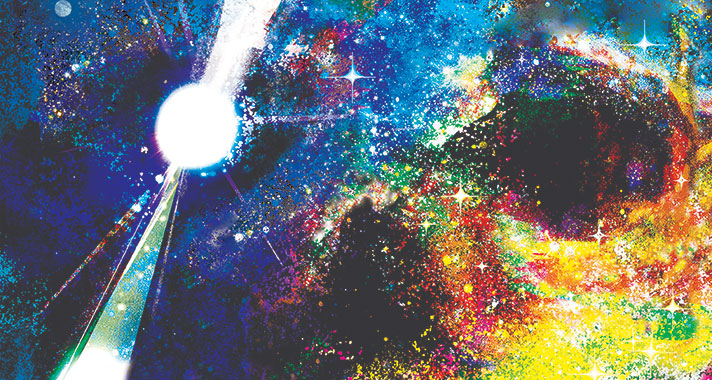 Galaxy of Horrors: Terrifying Real Planets
Oct. 15 & 16
There are many deadly worlds out there in the Milky Way. This month's show will profile some of the real — and terrifying — planets NASA missions have discovered and discuss how they fit into the overall picture of what dangers lurk in the darkness of space…
Host:
Preston Dyches
Speaker(s):
TBD
Location(s):
Thursday, October 15, 2020, 7pm
The von Kármán Auditorium at JPL
4800 Oak Grove Drive
La Cañada Flintridge, CA
› Directions

Friday, October 16, 2020, 7pm
Caltech's Beckman Auditorium
1200 E California Blvd.
Pasadena, CA
› Directions

› Click here to watch the event live on Ustream
* Only the Thursday lectures are streamed live.
Webcast:
› Click here to watch the event live on YouTube
› Click here to watch the event live on Ustream
* Only the Thursday lectures are streamed live.
10/26 –
October 26 – 30.
This virtual conference will be free to attend.
The seminars serve the NIH mission of providing education and training for the next generation of biomedical and behavioral scientist. NIH policy, grants management, review and program staff provide a broad array of expertise and encourage personal interaction between themselves and seminar participants. The seminars are appropriate for grants administrators, researchers new to NIH, and graduate students.
NOVEMBER😁
11/1 –
11/2 –
11/3 –
11/4 –
11/5 –
11/6 –
11/7 –
11/8 –
11/9 –
11/10 –
11/11 –
11/12 –
The von Kármán Lecture Series: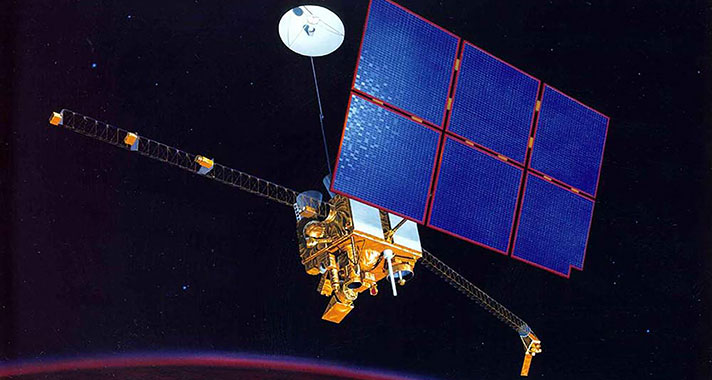 Failure *is* an Option: The Agony & Inspiration of Defeat
Nov. 12 & 13
There are lessons in defeat. This month's show will discuss several notable failures in the course of JPL's history of exploration and the incredibly valuable lessons from them. Did you know the loss of a Mars spacecraft led to a new system that lets us never lose contact during critical maneuvers? Or that a failed spacecraft antenna helped make better mobile phones? Space is hard — join us to hear how JPL turns setbacks into motivation.
Host:
Preston Dyches
Speaker(s):
TBD
Location(s):
Thursday, November 12, 2020, 7pm
The von Kármán Auditorium at JPL
4800 Oak Grove Drive
La Cañada Flintridge, CA
› Directions

Friday, November 13, 2020, 7pm
Caltech's Beckman Auditorium
1200 E California Blvd.
Pasadena, CA
› Directions

› Click here to watch the event live on Ustream
* Only the Thursday lectures are streamed live.
Webcast:
› Click here to watch the event live on YouTube
› Click here to watch the event live on Ustream
* Only the Thursday lectures are streamed live.
---
DECEMBER😁
---
JANUARY😁
1/6 –
🏃‍♀️Walt Disney World Marathon Weekend 🏃‍♂️
6th – 10th✈
🏰 Walt Disney World Resort, Florida🌞

Show Off Your
Winning Style!

Support Your Runner
on Race Day!

Are You Up for the
Challenge?
Browse Upcoming Races
---
FEBRUARY😁
MARCH😁
3/25
CONVENTION
International Convention of Psychological Science will be held in Brussels, Belgium, March 25–27, 2021. Learn more at psychologicalscience.org/conventions/icps.
APRIL😁
4/5
2021 Global Mental Health Research Without Borders Conference, April 5-6, 2021
The National Institute of Mental Health and Grand Challenges Canada are sponsoring the 11th Global Mental Health Research Conference on April 5-6, 2021, which will bring together researchers, innovators, and other stakeholders from around the globe. The conference will showcase findings from cutting-edge science and explore new opportunities for groundbreaking research.
Watch for the call for abstracts in August 2020.
Location: Natcher Conference Center, National Institutes of Health Campus, Bethesda, MD 20892, USA.
MAY😁
JUNE😁
JULY😁
AUGUST😁
SEPTEMBER😁
OCTOBER😁
NOVEMBER😁
DECEMBER😁
---
24/7/365
Contact
Events
Impact
---
---
"Critical feedback is much appreciated." ⬇⬇⬇